New Roots Herbal Strong Bones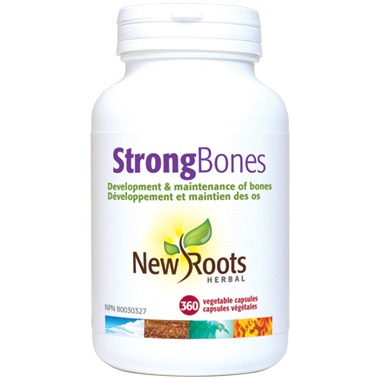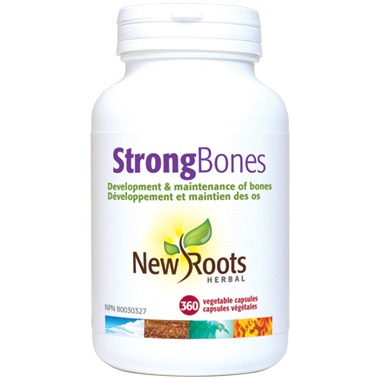 New Roots Herbal Strong Bones
Strong Bones helps you build and maintain stronger bones. Strong Bones contains the proper form of calcium (MCHA) from New Zealand, with cofactors for immediate absorption for the prevention of osteoporosis.
Helps prevent osteoporosis while relieving pain and stiffness in knees, hips, wrists, and shoulders
Helps to promote the growth cycle of healthy bone-forming cells
Supplies a premium bioavailable form of calcium
Directions:
Adults: Take 2 capsules one to three times daily with food or as directed by your health-care practitioner. If you are taking other medications, take this product a few hours before or after them.

Caution:
Contains no: Preservatives, artificial flavour or colour, sugar, dairy, wheat, gluten, yeast, soy, citrus, or eggs.
Cautions and warnings: Consult a health-care practitioner prior to use if you are taking blood thinners; if you have gallstones or a bile duct obstruction; if you have stomach ulcers or excess stomach acid; if you are taking any prescription medication; if you have been diagnosed for or are at risk for a blood pressure disorder; if you have a liver disorder or develop symptoms of liver trouble (such as abdominal pain, dark urine or jaundice); if you are following a low-protein diet; in case of an estrogen-dependant cancer; or if you are taking antiplatelet medication. Do not use if you are pregnant or breast-feeding.
Do not use if seal is broken. Keep out of reach of children.
Ingredients:

Each 6 vegetable capsules contain:
Microcrystalline hydroxyapatite (freeze-dried MCHA)
3600 mg
Calcium (from calcium hydroxyapatite*)
900 mg
Phosphorus (from calcium hydroxyapatite*)
450 mg
Protein (from calcium hydroxyapatite*)
900 mg
Magnesium (from magnesium bisglycinate)
145 mg
Zinc (from zinc monomethionine)
9.3 mg
Manganese (from manganese [II] citrate)
2.79 mg
Copper (from copper [II] citrate)
930 mcg
Boron (from boron citrate)
3.36 mg
Vitamin B1 (thiamin hydrochloride)
4.65 mg
Vitamin K2 (menaquinone‑4)
83 mcg
Vitamin K2 (menaquinone‑7)
10 mcg
Field horsetail (Equisetum arvense), 7% silica
30 mg
Vitamin D3
1000 IU = 25 mcg
Vitamin C
186 mg
Vitamin B12 (methylcobalamin)
150 mcg
Folic acid (folate)
500 mcg
Lutein (from marigold)
2 mg
Lycopene
5 mg

l

‑Lysine (

l

‑lysine monohydrochloride)
300 mg

l

‑Proline
300 mg
Glucosamine sulfate (crab/shrimp exoskeleton stabilized with potassium chloride)
252 mg
Curcumin (Curcuma longa), 95% curcuminoids
20 mg
Grape (Vitis vinifera) seed extract, 95% proanthocyanidins
60 mg
Green tea (Camellia sinensis) leaf extract, 75% EGCG
42 mg
* From New Zealand cattle. Guaranteed free of bovine spongiform encephalopathy (BSE) and recombinant bovine growth hormone (rBGH).
Other ingredients: Microcrystalline cellulose, natural peppermint flavour, vegetable magnesium stearate, and silicon dioxide in a non‑GMO vegetable capsule composed of vegetable carbohydrate gum and purified water.
Non-GMO