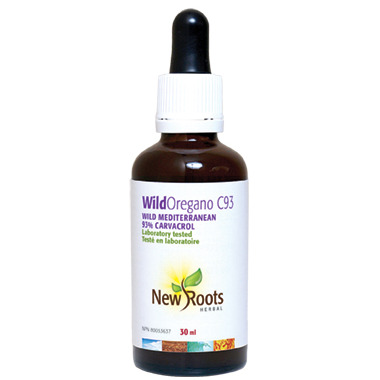 Description
Our Wild Oregano C93 has one of the highest carvacrol-to-volatile-oil content. Wild-crafted from sustainable sources in the Mediterranean, we use the Origanum minutiflorum species, considered the best quality worldwide.
Helps fight colds, the flu and many other infections
Offers an antiviral, antibacterial, and antifungal protection
Blended with premium, cold-pressed, extra virgin, certified organic olive oil
Directions:

Adults: Put 5 drops under the tongue and gulp or mix with 30 ml of water or juice three to five times daily or as directed by your health-care practitioner. Take with food. If you are taking supplements containing iron, zinc, calcium, or copper, take this product a few hours before or after them. For occasional use only.
Caution:

Cautions and warnings: Do not use if you are pregnant or breast-feeding or if you have hypersensitivity or are allergic to herbs in the Lamiaceae family. Discontinue use if you experience gastrointestinal upset. Do not exceed recommended dosage.

Do not use if seal is broken. Keep out of reach of children.
Ingredients:
Each drop contains:
Origanum minutiflorum (herb) oil (75–85% carvacrol [93% carvacrol of total volatile oils])
5.42 mg
Other ingredient: Extra-virgin certified organic olive oil.

Non-GMO

Highlights

Shipping & Returns