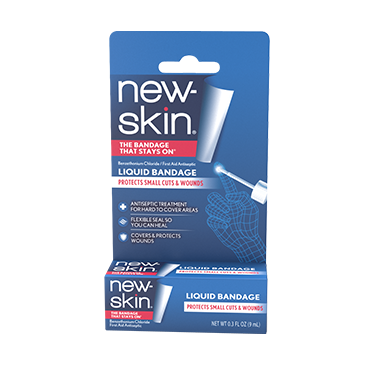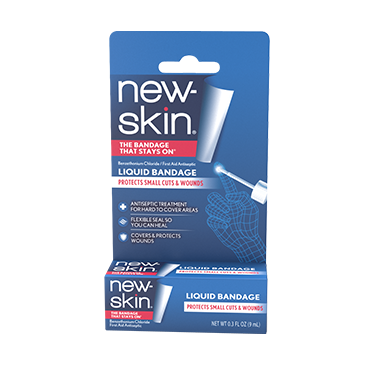 Covers and Protects Wounds
New-Skin® Liquid Bandage provides antiseptic treatment for hard-to-cover cuts, wounds, scrapes, calluses, and dry, cracked skin. New-Skin® dries rapidly to form a tough protective cover that is waterproof and keeps out dirt and germs while letting skin breathe. For larger affected areas, try New-Skin Liquid Spray Bandage.
Protects cuts and scrapes
Prevents and protects blisters
Helps prevent the formation of calluses
Covers painful hangnails and chapped and cracked fingertips
Particularly useful for hikers, bikers, runners, bowlers, golfers, tennis players, fishermen, and musicians
Directions:
Clean affected area
Apply small amount on the area 1-3 times daily
Let dry
A second coating may be applied for extra protection
To remove, apply more New-Skin® Liquid Bandage and quickly wipe off
Other information
Store at room temperature, away from heat
May temporarily sting upon application
Do not allow to come into contact with floors, countertops or other finished surfaces – will stain
Ingredients:
Active Ingredient:
Benzethonium Chloride 0.2%
Inactive Ingredients
Amyl acetate, camphor, ethyl acetate, ethyl alcohol, n-butyl acetate, nitrocellulose
Similar Bandages & Dressings
Derek:
a few months ago
I'm a big fan of this liquid bandage. I first bought one from Well.ca over a year ago because I was curious about it. It quickly won me over with how durable the application was, e.g., if I applied the liquid bandage over a small cut on my finger, it would stay in place for more than a day, even after repeated hand washes. In contrast, a typical plaster bandage would fall off after washing my hands a couple of times.

I use it a lot, not just on cuts, but also on things like hangnails. Very effective.

The only issue I have is that the "best before" date on a New-Skin bottle seems to be overly generous. My first bottle listed 08/17 as the date when it should be replaced, but I found that the liquid bandages started to come off easier and were less smooth/uniform several months before the suggested date. It was still useful, although I had to re-apply or touch up a bandage more frequently than before.
Page
1