Nicoderm
Nicoderm Clear Step 1 Nicotine Patches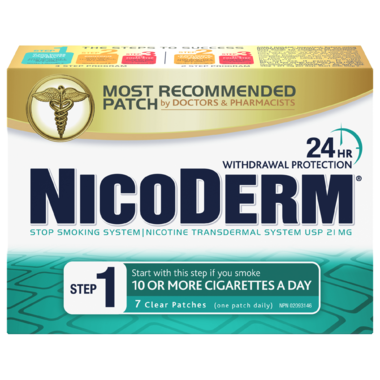 Nicoderm
Nicoderm Clear Step 1 Nicotine Patches
7 Count
Nicoderm Clear Step 1 Nicotine Patches
is rated out of
5
by
299
.
---
Description
Nicoderm Clear, Step 1 Patches (21 mg/day) can help you quit smoking once and for all. The nicotine patch most recommended by doctors and pharmacists, Nicoderm is clinically proven to be safe when used as directed, effective, and it can double your chances of quitting successfully.

Designed for those who smoke 10 or more cigarettes a day, Nicoderm Clear, Step 1 Patches are for use during weeks 1 through 6 of a 10-week smoking cessation program. Each patch delivers 21 milligrams of nicotine over a 24 hour period to help you quit smoking by reducing withdrawal symptoms and nicotine cravings. This pack contains 7 patches, a one-week supply.

Features:

24-hour craving control
Controlled delivery of 21 mg of nicotine within a 24-hour period
Clinically proven to be safe when used as directed, effective, and double your chances of quitting successfully
Most recommended nicotine patch by doctors and pharmacists
A Nicotine Replacement Therapy (NRT) and smoking cessation aid
Instructions for Use:
Nicoderm STEP 1 (21 mg/day) is a medicine that can help you stop smoking by reducing withdrawal symptoms and nicotine cravings. To increase your chances of quitting, use with a stop smoking support program as identified in the enclosed User Guide.

ADULT DOSAGE: Important: Before using Nicoderm, carefully read enclosed User Guide for complete instructions. Apply one patch every 24 hours to a non-hairy, clean, dry area of your front or back above the waist or the upper outer area of your arm. It is important to complete treatment. If you feel you need to use Nicoderm Patch for a longer period to keep from smoking, talk to your healthcare provider.


Ingredients:
MEDICINAL INGREDIENT -- Each Nicoderm STEP 1 (21 mg/day) patch contains 114 mg nicotine. Each patch releases a controlled 1.5 mg/hr over 24 hours with systemic delivery of 21 mg/day.
NON-MEDICINAL INGREDIENTS -- Ethylene-vinyl acetate copolymer, polyisobutylene and high density polyethylene between Clearpolyester backings.

Caution:
Keep out of reach of children. DO NOT USE IF YOU: are under 18 years of age; are an occasional or non-smoker; are pregnant or nursing; have generalized skin disorders (e.g., eczema, rash; are allergic to nicotine or any of the non-medicinal ingredients).

NOTE: If you weigh less than 45 kg (100 lb), or have heart disease and your doctor recommends Nicoderm - DO NOT USE Step 1 (21 mg per day). Start with Step 2.
ASK YOUR DOCTOR BEFORE USE IF YOU: have/have had heart, thyroid, circulation or stomach problems, stroke or high blood pressure; take insulin or any prescription medications.

Known Adverse Events: Nicoderm patches can cause minor skin irritation, headache, light-headedness, insomnia, stomach upset and vivid dreams. These side effects may be eliminated by stepping down to a lower strength Nicoderm patch.
Should you require consultation with a pharmacist, you may
contact our Well.ca Pharmacist.
Please read the label, warnings and inserts provided by the manufacturer and consult your healthcare professional when purchasing medications or natural health products to be sure the product is right for you.
Chemical Name: Nicotine Transdermal System USP 21 mg
Shipping & Returns
We are only able to ship this item to Canadian customers.
This item cannot be shipped to Quebec due to provincial pharmacy regulations.
Click here for more information
Rated

5

out of

5
by
Anna52
from
I used Nicoderm about 25 yrs ago when vacationing in Cuba and I haven't looked at a cigarette since. Thank you so much.
I smoked a pack of 25 per day. Couldn't stand the smell on my body, coughing phlegm-disgusting. The dollars didn't matter, it was the stench and what smoking was doing to by body-that was about 25 yrs ago. I couldn't quit cold turkey but Nicoderm helped control the cravings and all I had to do was keep my hands busy. If you ever see someone rolling a napkin in a restaurant, they're probably trying to quit smoking. Thanks to Nicoderm I was able to quit an haven't looked back. When I got pregnant 10 yrs later, I was so happy that I was no longer putting that poison in me. Thank you again Nicoderm & Johnson & Johnson I will never for you! Anna
Date published: 2015-07-17
Rated

5

out of

5
by
Gail
from
Excellent product, really works!
Smoked for 46 YEARS, 1 carton every 5 days. Decided to quit and only going to do it once. Finished my cigarettes on hand, threw out my ashtray and lighters, started on nicoderm patch. Adjusted the program slightly, 6 wks step 1, 4 wks step 2, 2 wks step 3. Figured I had smoked for 46 years, 3 months to quit would be fine! Product worked great and I have not had a cigarette in 8 months. Wish I had done this years earlier, surprised at how easy it turned out to be. Thank you Nicoderm!
Date published: 2017-03-17
Rated

5

out of

5
by
mamabear3
from
Expensive but Effective
I tired the no name knock off patch, it slid off everytime I got hot! I tried this, and this 20 year pack a day smoker has now been smoke free for almost 2 years! Worth the extra money, and I found I didn't need all three steps, which helped! Love that this is out there to help people who really are ready to quit!
Date published: 2015-03-05
Rated

5

out of

5
by
Rick3691
from
One week free of smoking
The Patch has got me to one week without smoking. The first week in 40 years! I keep busy. My house is spotless. I will win. I feel I have the patch on my team.
Date published: 2018-01-14
Rated

5

out of

5
by
Shelley49
from
This product has given me the ability to quit!!
I have been smoke free for about 35 days and it's alk thanks to nicoderm! I would not be successful without. They help with 95% if the cravings and I feel so much better since quitting!❤️
Date published: 2018-09-18
Rated

5

out of

5
by
Bob
from
Great
A great product that helped me quit smoking. Now I recommend it to all of my friends.
Date published: 2015-05-26
Rated

4

out of

5
by
Cindy27
from
great product
Quit smoking almost two years ago. One of the hardest things I ever did. No way I could have made it without the help of this product especially the first few weeks.
Date published: 2016-02-02
Rated

4

out of

5
by
Happy
from
Day by Day
So easy to use. I really needed the 21mg to get me going. I really want to quit but it is not just the patch it is also the ability to CONTROL yourself. My cravings are really strong at times but Controlling my thoughts and the help of the patch are helping me succeed day by day.
Date published: 2015-11-04