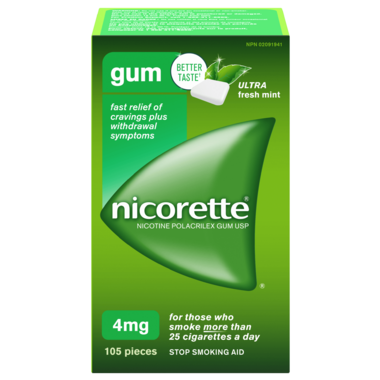 105 Count
NICORETTE Gum Ultra Fresh Mint 4mg
is rated out of
5
by
657
.
---
Description
Nicorette Gum works fast to relieve your cravings plus withdrawal symptoms to help you quit smoking. Containing 4 milligrams of nicotine per piece, this gum helps fight the craving to smoke and helps reduce unpleasant withdrawal symptoms. Using Nicorette Gum correctly can double your chances of quitting versus willpower alone. Chew a piece of this Nicorette gum whenever you feel the urge to smoke, up to 20 times a day. This nicotine-based gum is indicated for adults smoking 25 cigarettes or more a day, who want to quit smoking immediately or quit gradually by reducing the amount of cigarettes they smoke each day.
Features:

Relieve your cravings and withdrawal symptoms
Doubles your chances of quitting versus willpower alone
4 mg of nicotine per piece of gum
A Nicotine Replacement Therapy (NRT) and smoking cessation aid
Great tasting mint flavour

Instructions for Use: Nicorette Gum is a medicine that can help you stop smoking by reducing withdrawal symptoms and nicotine cravings. It can be used to quit immediately (Stop to Quit) or to quit gradually (Reduce To Quit) by reducing the number of cigarettes you smoke each day. To increase your chances of quitting, use with a stop smoking support program as identified in the enclosed User Guide. Nicorette Gum can help double your chances of quitting successfully. Although quitting smoking is preferable, Nicorette Gum can also be used as part of a Reduce To Quit program in which it is used to reduce the number of cigarettes smoked prior to quitting in smokers who are not able or ready to quit abruptly.
It can also be used in cases in which you temporarily refrain from smoking, for example, in smoke-free areas or in other situations when you wish to avoid smoking. If the amounts of Nicorette Gum you are taking do not help you stop smoking, talk with your healthcare provider about using more than one type of nicotine replacement therapy at the same time.

Ingredients:

Medicinal Ingredients -- 4 mg of nicotine (as nicotine polacrilex).

Non-Medicinal Ingredients -- Acacia, acesulfame potassium, black iron oxide, flavours, gum base, hypromellose, magnesium oxide, menthol, peppermint oil, polysorbate, sodium bicarbonate, sodium carbonate, sucralose, titanium dioxide, wax, xylitol.
Warnings:
Do not use if you are an occasional or non-smoker. Keep out of reach of children and pets. Do not use if the blister foil is punctured or damaged.
Contains natural and synthetic mint flavours that may cause allergic reactions (Uncommon: oral blisters).
DO NOT USE IF YOU: Are under 18 years of age; are pregnant or nursing; have a jaw disorder; have heart arrhythmias; have had a heart attack; have angina pectoris; or are allergic to nicotine or to any of the non-medicinal ingredients in the product.
ASK YOUR DOCTOR BEFORE USE IF YOU: Have/have had heart, thyroid, circulation, stomach, liver, kidney, throat or mouth problems, or high blood pressure; take insulin or any prescription medicine.
Should you require consultation with a pharmacist, you may
contact our Well.ca Pharmacist.
Please read the label, warnings and inserts provided by the manufacturer and consult your healthcare professional when purchasing medications or natural health products to be sure the product is right for you.
We are unable to offer Paypal as a payment option for orders containing this product.
Shipping & Returns
We are only able to ship this item to Canadian customers.
This item cannot be shipped to Quebec due to provincial pharmacy regulations.
Click here for more information
Rated

5

out of

5
by
Sam
from
Certainly has helped a lot
I decided to endeavour to quit in April. I was smoking 30-40 cigarettes a day. And a 50 year smoker. I started with the 4mg patch, gum and spray. Gradually reducing cigarettes, I am now at 3 per day. I no longer use the patches just gum and spray. Being as active as I can possibly be has certainly helped, however with the winter months coming, I am concerned that I may increase my cigarette intake out of boredom. I will have to think of other ways to occupy myself.
Date published: 2018-10-03
Rated

3

out of

5
by
Natalya
from
Old flavor was perfect
Where is uncoated original flavor??? I've stopped buying it because whoever created coated and orange/sinamon/etc flavors I'm sure didn't smoke a day in a life and doesn't understand what ppl who r trying to quit are looking for. Please bring back normal gum.
Date published: 2017-07-09
Rated

5

out of

5
by
Hockeymom12
from
Living my best life!
During my first month of quitting smoking I used the 4mg and am now almost at my three month milestone and am using the 2mg less than 5 times per day. I'm already considering the time to eliminate Nicorette gum. As a recovering fifteen year smoker, I'm feeling confident that this product has helped me kick my habit and is helping me live my best life! Thanks guys for helping make that possible for me!! :)
Date published: 2018-07-30
Rated

1

out of

5
by
Gail
from
I would give a five star review for Nicorette Fresh Mint 2mg
I prefer Nicorette Fresh Mint 2mg. Why are they not being sold in stores anymore. Very disappointed.
Date published: 2017-02-03
Rated

1

out of

5
by
TimC
from
Why no Fresh Mint Flavour
Why has Nicorette discontinued the Fresh Mint flavour? It is the only flavour and texture that I like, and has always been the most popular flavour in the stores. I'd rather give up the gum than change to a flavour I don't like, so I think the Nicorette company is hurting itself in the long run.
Date published: 2017-02-21
Rated

5

out of

5
by
Chris
from
Excellent. I QUIT!!!
I smoked for over 45 years and was upto a pack and a half per day. After smoking that final cigarette i started chewing nicorette gum. Success!!! Haven't had a cigarette for 3 months now. Whoppee. Monkey is off my back.
Date published: 2019-02-02
Rated

4

out of

5
by
Susan
from
Susan
I can't find uncoated anymore. I don't like the sweet crunch coating. Please don't discontinue the uncoated.
Date published: 2017-06-16
Rated

5

out of

5
by
joyjj7
from
My husband Quit For Good
He used many others products and went back to smoking. This products helped him quit and is now smoke free, it took the edge off when he craved a smoke. It tastes better with the mint flavor too.
Date published: 2018-07-16