Nicorette QuickMist Mouth Spray Cool Berry Flavour
1 mg/spray
Approx. 150 sprays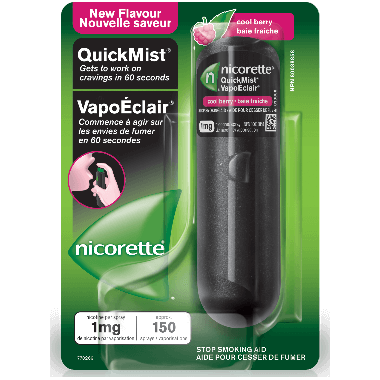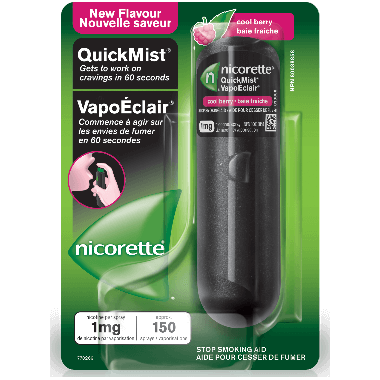 Nicorette QuickMist Mouth Spray Cool Berry Flavour
1 mg/spray
Approx. 150 sprays
Nicorette QuickMist spray gets to work on cravings in 60 seconds. Containing 1 milligram of nicotine in each spray, this smoking cessation product provides effective relief from cigarette cravings and nicotine withdrawal symptoms. Tackling cravings as quickly as possible can help you regain control and feel more confident in your quit attempt.

Simply use one to two sprays of this fine mist whenever you get the urge to smoke, up to 4 sprays an hour and 64 sprays a day. Using a support or counseling program with Nicorette QuickMist spray can greatly increase a person's success in quitting smoking. Each bottle contains approximately 150 sprays.

Features:
Gets to work on tough cravings in 60 seconds
1 mg of nicotine per spray, approximately 150 sprays
A Nicotine Replacement Therapy (NRT) and smoking cessation aid
Great tasting Cool Berry flavour

Instructions for Use:USE: Spray 1-2 sprays of Nicorette QUICKMIST into your mouth whenever you would normally smoke a cigarette or have cravings for a cigarette. Use the second spray if your cravings do not disappear within a few minutes. If 2 sprays are required, future doses may be delivered as 2 consecutive sprays.

For example if you smoke an average of 15 cigarettes per day you should use 1-2 sprays at least 15 times during the day. You may use a maximum of 4 sprays per hour.
The maximum daily dose is 64 sprays per day.Do not exceed this maximum.
If you are using Nicorette QuickMist while trying to quit smoking but slip up and have a cigarette, you should not stop using Nicorette QuickMist. You should keep using it and keep trying to quit. It is important to complete treatment. If you feel you need to use Nicorette QuickMist for longer than 6 months to keep from smoking, talk to your healthcare provider.
Ingredients:
MEDICINAL INGREDIENT: one spray contains 1 mg of nicotine.
NON-MEDICINAL INGREDIENTS: acesulfame potassium, ethanol, flavours, glycerin, hydrochloric acid, menthol, poloxamer 407, propylene glycol, purified water, sodium bicarbonate, sucralose, trometamol.


WARNING: Read and keep the enclosed leaflet for this and other important information. Keep out of reach and sight of children and pets. Do not use if the blister card has been torn or opened.
DO NOT USE IF YOU ARE: under 18 years of age, pregnant or breastfeeding or allergic to any of the ingredients

If the amounts of Nicorette QUICKMIST you are taking do not help you stop smoking, talk with your healthcare provider about using more than one type of nicotine replacement therapy at the same time