Thrive
Thrive Nicotine Polacrilex Gum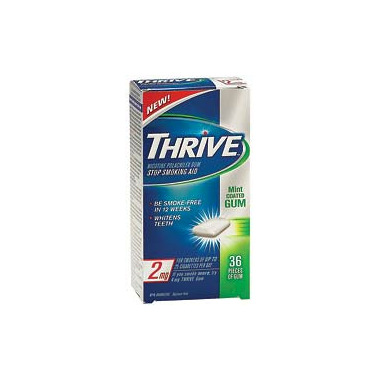 Thrive
Thrive Nicotine Polacrilex Gum
Mint
36 Count
Thrive Nicotine Polacrilex Gum
is rated out of
5
by
3
.
---
Description
However many cigarettes you smoke, Thrive has a great tasting, clinically proven product portfolio of discreet mint gum which can help you become smoke-free. Thrive helps to double your chances of quitting compared to will power alone.
Double the chances of quitting.
Be smoke-free in 12 weeks.
Unexpectedly bold mint taste.
Whitens teeth.
Freshens breath.
Should you require consultation with a pharmacist, you may
contact our Well.ca Pharmacist.
Please read the label, warnings and inserts provided by the manufacturer and consult your healthcare professional when purchasing medications or natural health products to be sure the product is right for you.
Dosage: 2 mg
Shipping & Returns
We are only able to ship this item to Canadian customers.
This item cannot be shipped to Quebec due to provincial pharmacy regulations.
Click here for more information
Rated

4

out of

5
by
Andrea
from
I have been using the 2mg Thrive gum for only a few days now and am very careful with it. I only have one piece a day, for a few moments at a time, and will save that piece until I need it again. It definitely helps during moments of weakness, but I\'m too afraid of becoming addicted to the gum to take it more often. Occassionally my heart races and beats heavily, and it has also made me bloated and constipated, no matter what I eat or drink. Kills your appetite. So far seems to be worth the neagative side effects, smoke-free for 6 days with very limited cravings, and much easier than my previous attempts at quitting cold turkey.
Date published: 2011-04-29
Rated

5

out of

5
by
.
from
I started smoking at a very young age (13), smoked for 20 years, and had tried everything (except for laser therapy) to quit. I started chewing Thrive gum almost 4 months ago and haven\'t had a smoke since. The first 2 months I chewed the 4mg and then I switched to the 2mg. I do chew a lot (about 15-20 pieces a day, I was a heavy smoker) and really haven\'t had any negative side effects. My husband had also quit with this gum and has been smoke free for over a year, and he only chewed the gum for about 2 weeks. I\'m sure it will be a while before I stop the gum but the way I look at it, the gum is still better for my health. I really thought I\'d never be able to quit. Not saying it\'s been easy because I still get cravings, but the gum really does help.
Date published: 2011-04-29
Rated

5

out of

5
by
Laura
from
Thrive 2 mg gum is absolutely excellent! A family member is in the last week or two of quitting smoking, and thanks to Thrive, she'll be smoke free! I'm so happy that Well.ca offers this product, and at a fair price, too! The gum tastes great, and really satisfies cravings!
Date published: 2012-05-09