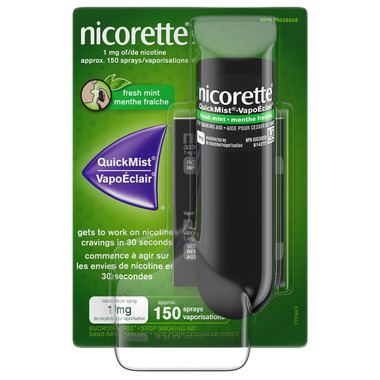 Description
Nicorette QuickMist gets to work on cravings in 30 seconds. Containing 1 milligram of nicotine in each spray, this product provides effective relief from cigarette cravings and nicotine withdrawal symptoms. Tackling cravings as quickly as possible can help you regain control and feel more confident in your quit attempt. Simply use one to two sprays of this fine mist whenever you get the urge to smoke, up to 4 sprays an hour and 64 sprays a day. Using a support or counseling program with Nicorette QuickMist spray can greatly increase a person's success in quitting. Each bottle contains approximately 150 sprays.


Directions: Spray 1-2 sprays of NICORETTE® QUICKMIST® into your mouth whenever you would normally smoke a cigarette or have cravings for a cigarette. Use the second spray if your cravings do not disappear within a few minutes. If 2 sprays are required, future doses may be delivered as 2 consecutive sprays. You may use a maximum of 4 sprays per hour. The maximum daily dose is 64 sprays per day. Do not exceed this maximum.

Caution &Warnings: Side Effects and How to Use: DO NOT USE IF YOU ARE: under 18 years of age, pregnant or breastfeeding or allergic to any of the ingredients listed on the packaging. Read and keep the enclosed leaflet for this and other important information. Keep out of reach and sight of children and pets. Do not use if the blister card has been torn or opened.

Store between 15°C and 30°C

QUESTIONS? 1-866-311-5655


Should you require consultation with a pharmacist, you may
contact our Well.ca Pharmacist.
Please read the label, warnings and inserts provided by the manufacturer and consult your healthcare professional when purchasing medications or natural health products to be sure the product is right for you.
Features
Gets to work on tough cravings in 30 seconds to help you quit smoking for good
1 mg of nicotine per spray, approximately 150 sprays
A Nicotine Replacement Therapy (NRT) and smoking cessation aid
Great tasting Fresh Mint flavour
Ingredients
One spray contains 1 mg of nicotine. NON-MEDICINAL INGREDIENTS: acesulfame potassium, ethanol, flavours, glycerin, hydrochloric acid, menthol, poloxamer 407, propylene glycol, purified water, sodium bicarbonate, sucralose, trometamol. *Sweetened with acesulfame potassium & sucralose.
Shipping & Returns
We are only able to ship this item to Canadian customers.
This item cannot be shipped to Quebec due to provincial pharmacy regulations.
Click here for more information