Nivea
Nivea Men Sensitive Skin After Shave Balm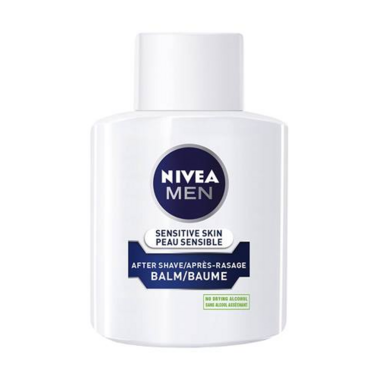 Nivea
Nivea Men Sensitive Skin After Shave Balm
100 mL
Nivea Men Sensitive Skin After Shave Balm
is rated out of
5
by
48
.
---
Description
Nivea Men Sensitive Shaving After Shave Balm instantly soothes and protects your skin from irritations caused by shaving. The caring balm contains no drying alcohol and does not burn. The extra gentle formula is enriched with Chamomile and Vitamin E to care for the sensitive skin after you shave.

Product Features:
Instant soothing feeling

Alleviates redness due to dry skin

Skin look healthier and care for

Skin feels comfortable and smooth

Dermatologically tested by men with sensitive skin
Warning: Avoid contact with eyes.
Features
The formula with Chamomile and Seaweed extracts is non-greasy, non-sticky and fast absorbing. Instantly soothes after shaving. Leaves comfortable cooling sensation after shaving. Alleviates redness due to dry skin. Dermatologically tested by men with sensitive skin. DERMATOLOGICALLY TESTED BY MEN WITH SENSITIVE SKIN
Shipping & Returns
Rated

4

out of

5
by
Zowie D.
from
This was Impressive
So, I may be a weirdo, but I decided to try this out myself on my legs and wanted to add to the review as well! I finally decided to shave my winter coat, and when I say coat, it was! I've also been battling super dry skin, so felt an exfoliating shave would help. Stole some of the balm to apply to my bushwhacked legs to find instant relief that lasted for days! This balm left my legs feeling smooth, rehydrated and happy for a few days, with ZERO reaction or sting! Nivea, you are missing out on a niche to use this stuff and rebrand as leg hydration! Oh, and my partner liked it as well! Clearly, he doesn't show the same excitement, but he also liked it!
Date published: 2022-06-11
Rated

5

out of

5
by
Testdriver
from
Soft smooth skin to start the day.
I was happy to receive this #freeproduct in exchange for my honest review. Since my husband has sensitive skin I shared this product with him. He generally complains of irritated skin after shaving but found this shave balm solved the problem. It wasn't overly thick or creamy like other products. Instead, the milky texture made it easy to apply. He was happy that there was no strong fragrance. His skin was left feeling soft and smooth. While he still dislikes having to shave every morning, this makes for a more pleasant start to the day. He's confident he will continue to use it and would recommend it highly.
Date published: 2022-06-20
Rated

5

out of

5
by
Anonymous
from
Nivea Men Sensitive Cool Aftershave Balm
I received Nivea men sensitive cool Aftershave balm from @topboxcirlce . So of course my husband tried it out. He used the Nivea men sensitive shaving gel and shaved first. Then he applied Nivea men sensitive cool Aftershave balm. His skin was instantly cooled, relieved,soothed, and without any irritation. My husband really liked the scent, and he is fussy on scents so that's a definite hit. Personally I loved how he smelled after using Nivea men sensitive cool Aftershave balm. Thankyou @topboxcircle and @niveamen #nivea #niveamen #skincareproducts #skincare #trybeforeyoubuy #honestreviewsforproduct
Date published: 2022-05-31
Rated

4

out of

5
by
Kash
from
Out with the old in with the new
I received this product for free from top box to try it and give my honest review. I used this product in the morning after I shave to give my face a refresh and hydrating feel. This product smells amazing and helps my skin after shaving so my skin is not irritated. I have sensitive skin and this balm is great so my skin do not feel dries out. The bottle is a bit different from other products I have used before but it also gives me the advantage to see how much of the product I have been using daily. I would recommend trying this product to see how it helps with your shaving routine. #trywithtopbox!
Date published: 2022-05-25
Rated

4

out of

5
by
Chris
from
No burning when applied
I received the Nivea Men After Shave Balm for Sensitive Skin as a #freeproduct from #trywithtopbox. I gave it to my husband to try. He has very sensitive skin as a result of radiation treatment. He did use the balm sparingly, even though it says to use liberally, nevertheless he tried it. He was pleased that he did not get a burning feeling after he put it on and found that it absorbed and dried quickly. He said he liked the fact that their was no alcohol in the product, however was not fond of the scent even though it was not very strong. He would prefer sent free products. The shave balm had a consistency whereby it was difficult to get out of the bottle without having to give it a good shake.
Date published: 2022-06-18
Rated

1

out of

5
by
Erik
from
It's 2022, I'm still itchy as heck, and I smell like my dead grandpa.
I have issues with skincare stuff. It's usually loaded with stuff that aggravates my skin, causing severe acne and irritation. Thought this "for sensitive skin" option might do the trick to ease the after-shave irritation. It didn't, and, despite washing repeatedly since, the disgusting odour will not go away. Should've know right away when I put it on and immediately developed a piercing headache. Why is this scented like cologne? If I wanted to conceal the rotting scent of dead flesh, I'd choose something specifically for that, not try to roll in in with an ineffectual aftershave.
Date published: 2022-02-04
Rated

5

out of

5
by
KikiKi
from
Love this shave balm by Nivea!
I received Nivea Men Sensitive Skin After Shave Balm for my husband to try in exchange for his honest opinion & review. #trywithtopbox #freeproduct The shaving balm was used for a week. It has a nice, pleasant scent which absorbed quickly into my skin. There was no burning or irritation. My skin feels soft & looks and feels smooth after using the balm. I really like that there is no added alcohol, which I find is very drying. I used it in conjunction with Nivea Men Sensitive Shaving Gel. I really this product & would recommend it to family & friends. #freeproduct #Trywithtopbox
Date published: 2022-06-26
Rated

4

out of

5
by
Sandra
from
Nivea after shave balm
I received Nivea men sensitive cool after shave balm from #topboxcircle #freeproduct for an honest review. I also received the sensitive shaving gel so I asked my husband to try both products. He has been using an electric shaver for years so was pleasantly surprised with both the gel and the balm. The balm has a pleasant and gentle fragrance and a little goes a long way! He found the balm reduced both tightness and mild skin irritation. He definitely would recommend these products if you have sensitive skin. Thank you #niveamen and #topboxcircle #trywithtopbox
Date published: 2022-06-07