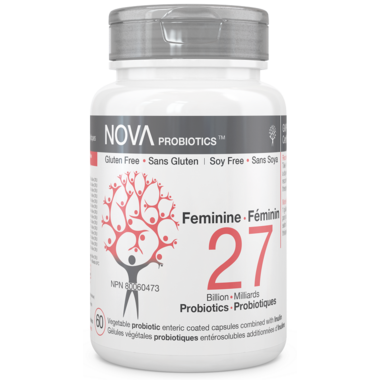 Description
NOVA Probiotics Feminine was formulated for women and their specific needs regardless of age. With 27 billion live microorganisms per capsule, it helps restore and maintain a healthy balance of beneficial bacteria to support digestive and vaginal health. Its unique combination of 14 probiotic strains has many benefits for women.

Directions: Take 1 capsule, 2-3 times a day with meals or as recommended by a therapist.

Caution: If you are on antibiotic(s), take at least 2-3 hours before or after. If you have fever, vomiting, bloody diarrhoea or severe abdominal pain, consult a health care practitioner prior to use.
Highlights

Features
Provides 27 Billion CFU per capsule
14 human-compatible probiotic strains for an action along the entire extension of the GI tract
Added with 5% chicory inulin (prebiotic) to nourish the growth of the probiotic microorganisms and enhance their effects
Vegetarian Capsules

No refrigeration required
Ingredients
14 Medicinal Strains: Lactobacillus rhamnosus NVA191, Lactobacillus plantarum NVA139, Lactobacillus rhamnosus NVA119, Bifidobacterium breve NVA053, Lactobacillus paracasei NVA234, Lactobacillus casei NVA180, Lactobacillus acidophilus NVA116, Bifidobacterium animalis subsp. lactis NVA051, Propionibacterium freudenreichii NVA420, Lactobacillus reuteri NVA235, Bifidobacterium longum subsp. longum NVA027, Bifidobacterium bifidum NVA020, Bifidobacterium longum subsp. infantis NVA041, Lactobacillus delbrueckii subsp. bulgaricus NVA160. Non-Medicinal Ingredients: Inulin (Prebiotic), Vegetable capsule (Hypromellose), Corn starch (Non-GMO, Allergen Free), Vegetal magnesium stearate, Ascorbic acid.
Shipping & Returns
We are only able to ship this item to Canadian customers.
Please be advised that Well.ca follows manufacturer guidelines for storing & shipping probiotics.
Click here for more information