NOVA Probiotics Progressive 55+ 42 Billion CFU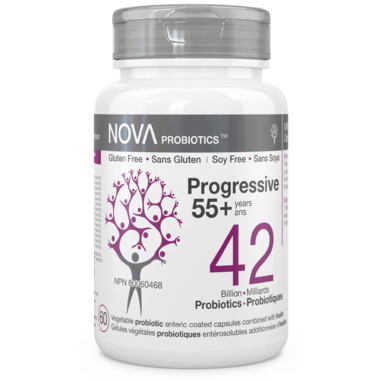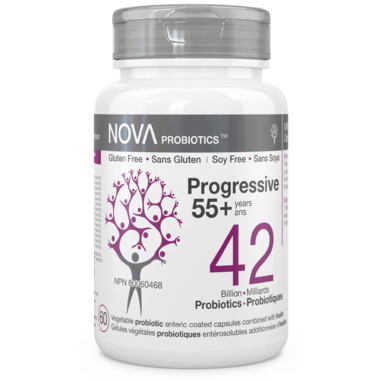 NOVA Probiotics Progressive 55+ 42 Billion CFU
The Progressive 55+ has been designed for digestive and immune benefits in adults age 45 and over. As we get older, the levels of Bifidobacterium and its different species tend to decrease. The extended use of antibiotics in the older population undoubtedly has a huge impact on the intestinal microbiota's composition, further decreasing the bifidobacteria population. Depletion of this colon predominant genus may cause occasional gas and constipation, bloating and associated discomfort, and may lead to an increased risk of infection. With 42 billion probiotic microorganisms per capsule, this product is intended to help restore and maintain gut microbiota equilibrium with strong concentrations of bifidobacteria. It can be used to help reduce digestive disorders associated with drug therapies, boost the immune system or, as part of a preventive healthcare strategy.
Features:

Provides 42 Billion CFU per capsule
14 human-compatible probiotic strains for an action along the entire extension of the GI tract
Added with 5% chicory inulin (prebiotic) to
nourish the growth of the probiotic microorganisms and enhance their effects
Targeted delivery with vegetarian DRcaps™
No refrigeration required
Directions:
Take 1 capsule, 2 times a day with meals or as recommended by a therapist.
Ingredients:
14 Medicinal Strains:
Lactobacillus rhamnosus NVA191, Lactobacillus plantarum NVA139, Lactobacillus rhamnosus NVA119, Bifidobacterium breve NVA053, Lactobacillus paracasei NVA234, Lactobacillus casei NVA180, Lactobacillus acidophilus NVA116, Bifidobacterium animalis subsp. lactis NVA051, Propionibacterium freudenreichii NVA420, Lactobacillus reuteri NVA235, Bifidobacterium longum subsp. longum NVA027, Bifidobacterium bifidum NVA020, Bifidobacterium longum subsp. infantis NVA041, Lactobacillus delbrueckii subsp. bulgaricus NVA160.
Non-Medicinal Ingredients:
Inulin (Prebiotic), Vegetable capsule (Hypromellose), Corn starch (Non-GMO, Allergen Free), Vegetal magnesium stearate, Ascorbic acid.
All ingredients are NON-GMO and ALLERGEN FREE.
NOVA Probiotics guarantees that only the ingredients listed on the label have gone in to this product. Contains NO soy, gluten, wheat, nuts, peanut, egg, fish or shellfish, hormones, antibiotic traces, GMO, pesticides or heavy metals.
Caution:
If you are on antibiotic(s), take at least 2-3 hours before or after. If you have fever, vomiting, bloody diarrhoea or severe abdominal pain, consult a health care practitioner prior to use.
Please be advised that Well.ca follows manufacturer guidelines for storing & shipping probiotics.





Karen:
about a week ago
I usually take progressive probiotics the 70 billion ones. I thought I would try these due to the description and because I'm over 55. My gut has no issues even with the food I eat that i know I shouldn't eat. I take one after breakfast and one after dinner. I have no problem going to the washroom, at least twice a day! These probiotics also need no refrigeration which is more convenient.
Page
1