NOW Better Stevia Balance Packets
With Inulin & Chromium
100 (1 g) Packets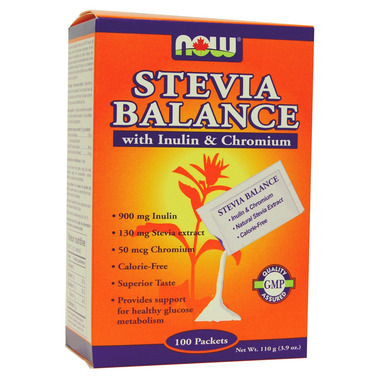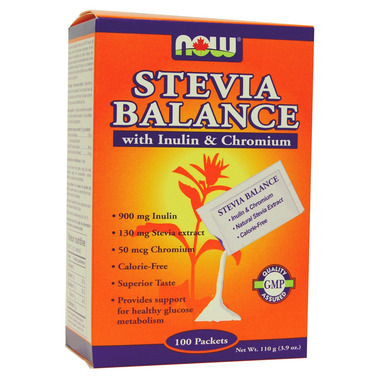 NOW Better Stevia Balance Packets
With Inulin & Chromium
100 (1 g) Packets
Stevia rebaudiana is a small plant native to Paraguay and Brazil. Stevia is a pure, white, crystalline compound named "stevioside" which is responsible for Stevia's flavourful properties.
Inulin is a fructooligosaccharide derived from chicory. As a prebiotic, it stimulates the growth of friendly intestinal flora to support good colon health. It has a low glycemic index making it suitable for persons on certain types of restricted diets.
Chromium is a trace mineral that is significantly reduced in the American diet due to the over processing of our foods. It is involved in a number of important bodily functions and is an effective synergist for Stevia and Inulin.
Features:
Inulin & Chromium
Natural Herb Extract
Calorie-Free
Saccharin-Free
Aspartame-Free
One hundred 1 g packets

Suggested Usage:
As a dietary supplement, take one packet as desired.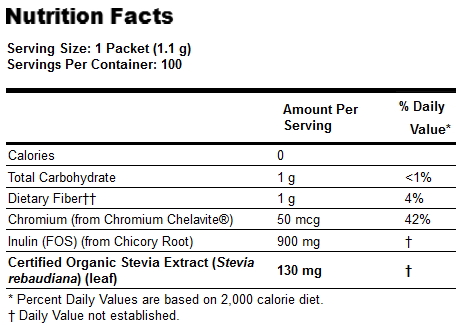 Other Ingredients:
Silica.

Contains No:
Salt, yeast, wheat, gluten, soy, milk, egg, shellfish, preservatives, artificial colours, artificial flavours or artificial sweeteners.