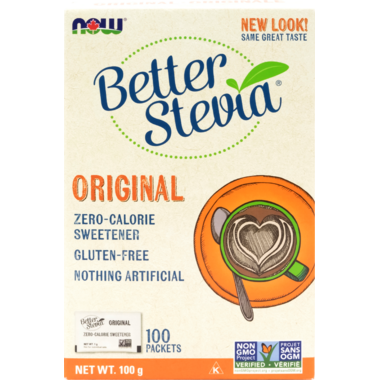 100 x 1 g
NOW Better Stevia Extract Packets
is rated out of
5
by
39
.
---
Description
BetterStevia is a zero-calorie, low glycemic, non-GMO, plant-derived sweetener that makes a sensible substitute for table sugar and artificially-derived sweeteners.
BetterStevia utilizes whole leaf extract that retains the pure sweetness of real stevia, as opposed to other products that isolate only fractions.

Features:

Certified Organic and Non GMO
Zero calories
Gluten Free
No artificial colours, flavours or preservatives
Kosher
Ingredients: Rice Maltodextrin, Certified Organic Stevia Extract (Stevia rebaudiana) (Leaf) and Silica.

Highlights

Shipping & Returns
Rated

5

out of

5
by
Kelly
from
This is without a doubt my staple Stevia. I like my coffee and tea both hot or cold sweeeeeet. I can adjust the level of sweetness by just adding or reducing a package. I find it excellent for my baked goods with no aftertaste. My Sister could not believe the sweetened foam I made for our coffees was not made with sugar. Believe me I have tried almost every brand in the marketplace and I prefer NOW Stevia to the rest. I would prefer that it not contain Rice Maltodextrin, however, it is the lesser of all the evils added to many "so called pure" Stevia sweeteners.
Date published: 2017-04-03
Rated

1

out of

5
by
Kristine
from
I've been using stevia for years and thought I'd give this brand a try, but I found it very sweet and I ended up using half of what I did with another brand, a good saving if you like the taste which I didn't care for. I found it somewhat metallic or bitter tasting and it left a lingering aftertaste. I wouldn't buy it again.
Date published: 2016-06-24
Rated

2

out of

5
by
Brandee
from
I too agree with some of the other reviews. It doesn't have much of an after taste but it doesn't taste very great. I've tried easing my way into it but I just don't know I will be able to get used to it. I've tried other brands such as the Krisda and I recall they had similar tastes (can't recall if Krisda had an after taste though).
Date published: 2014-05-28
Rated

3

out of

5
by
Olga
from
This not a product I will order again. It has two extra ingredients that I don't want, specially silica. It is a filler. there is too much silica in a lot of food products and also vitamins and medication. It stays in my body and even shows on it. I'll use up the rest in my baking, but sadly not re-order.
Date published: 2018-02-11
Rated

5

out of

5
by
Wendy
from
I love this product... it has a very pleasant taste and a big attraction is that you can use it in hot and cold drinks (e.g. coffee, lemonade) and also in baking (cakes, sweet loaves, etc.) and other recipes. I also love the fact that it comes from a natural plant and not from manufactured chemicals.
Date published: 2018-08-17
Rated

4

out of

5
by
Oliver
from
It has a little aftertaste but it appears to be the best tasting stevia in this form I have tried. I have not had a chance to compare it to the liquid form but it tastes beter than a no-name brandI bought in the supermarket
Date published: 2012-01-28
Rated

5

out of

5
by
Sandi
from
first time I have used stevia....thought it had really great taste and didn't notice too much of an after taste. I use it on my cereal and 1 packet does the trick! will definitely be buying again!
Date published: 2013-05-31
Rated

4

out of

5
by
Agatha
from
I also think this product is much better than the extract. It tastes great in tea. In coffee I'd have to say its not that good. I will continue using it in my daily cup of green tea :)
Date published: 2012-08-01