NOW Foods
NOW BetterStevia Alcohol-Free Liquid Sweetener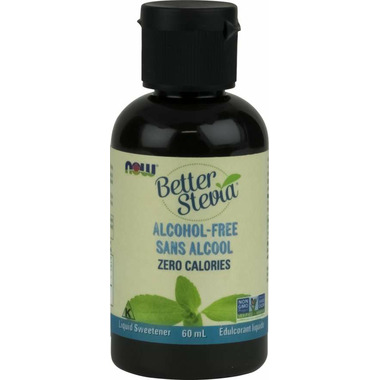 NOW Foods
NOW BetterStevia Alcohol-Free Liquid Sweetener
60 mL
NOW BetterStevia Alcohol-Free Liquid Sweetener
is rated out of
5
by
15
.
---
Description
NOW BetterStevia Alcohol-Free Liquid Sweetener is an alcohol-free, calorie-free, low glycemic, natural plant-based sweetener that makes a perfect substitute for sugar & artificial sweeteners. NOW BetterStevia contains pure Stevia extract, easily-utilized by the body and metabolized in the same way nutrients are.
Features:
Great Tasting flavour!
Flip Cap - Easy to Use and No Mess
Perfect for Sweetening Coffee, Tea, Yogurt, Oatmeal and more
Zero Calories
Alcohol free

Directions: Use to sweeten your favourite beverages and foods. Use 3 to 5 drops as desired daily. Sweeten to taste. Remember a little BetterStevia® goes a long way. Sedimentation may occur. Shake well before using. Store in a cool, dry place after opening.

Ingredients: Vegetable Glycerin, Organic Steviol Glycosides (Stevia rebaudiana Leaf Extract), De-ionized Water.
Highlights

Shipping & Returns
Rated

5

out of

5
by
Julie
from
For the product itself, I give 5 stars! It's really good, easy to mix in. I find I'm using stevia liquid exclusively now, and my stevia powder is sitting neglected in the pantry. But for the packaging... ugh. This one came with a dropper. Because the liquid is quite viscous, a thick coating clings to the outside of the dropper tube, so any contact with the narrow neck of the bottle causes a big gloop to run down the outside. I've bought the same brand with a flip top dropper and that works just famously. Luckily I had one that had just been emptied, and I transferred everything out of the dropper bottle into it. Packaging gets 1 star!
Date published: 2014-06-04
Rated

5

out of

5
by
Julie
from
I forgot to include this in my previous comment... The way to fix the bitter aftertaste is to avoid heat and cooking as much as possible. Add it at the last moment. It's also useful to keep in mind that an excess of stevia can contribute to the bitterness. When coming off sugar, our taste buds are still adjusting. We might add more stevia that necessary in our gustatory confusion, as our body demands more sweetness, looking for the same reaction it gets from sugar. When we make it through that initial phase, it becomes easier to taste the sweetness and using less becomes easier as well. I hope this can be of help to some. :) It's only mine and my family's personal experience, but it's served us very well. I can't remember the last time anyone complained of bitterness or harshness from stevia, and we've been using it for years.
Date published: 2014-06-04
Rated

5

out of

5
by
Katherine
from
Go Alcohol Free when it comes to liquid stevia! It's worth the little bit of an extra price. And NOW stevia is hands down the best stevia on the market. Other liquid stevias simply don't have the same potency, a small bottle of NOW stevia lasts me twice as long as other brands. I keep this smaller bottle in my purse. The lid stays firmly in place and it has never leaked. I no longer use any other sweetener except for stevia.
Date published: 2017-08-11
Rated

5

out of

5
by
Sil
from
No after taste
Purchased recently to try & very pleased as previous Stevia left a bad after taste & this one does not. Takes very little to get the desired sweetness.
Date published: 2020-04-30
Rated

5

out of

5
by
Sheila
from
This is the first Stevia product I have tried, and I think it is wonderful. I do not notice any after taste or bitterness what so ever. So far I have used it to sweeten plain yogurt and ice tea and I was pleasantly surprised. This is the only product I will buy!
Date published: 2012-09-14
Rated

5

out of

5
by
Mary
from
Easy to use. Nice flavor, no aftertaste. Alcohol free is way better than the original. I think it's one of the best Now Stevia product.
Date published: 2016-11-16
Rated

4

out of

5
by
jackie
from
As far as I know, stevia is a good and natural sweetener that does not spike the blood sugar and that tastes plenty sweet. This I appreciate.
Date published: 2017-10-12
Rated

5

out of

5
by
Michelle
from
NOW Better Stevia should be called "Best Stevia"! 5 drops in my 12 oz coffee mug sweetens as well as 2tsps of sugar. No after taste. Love it.
Date published: 2017-02-10