NOW Foods
NOW BetterStevia Liquid Sweetener Original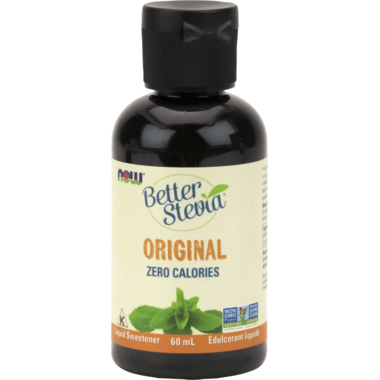 NOW Foods
NOW BetterStevia Liquid Sweetener Original
60 mL
NOW BetterStevia Liquid Sweetener Original
is rated out of
5
by
10
.
---
Description
BetterStevia is a zero-calorie, non-GMO, plant-derived sweetener that makes a sensible substitute for other sweeteners when baking or trying to liven up your beverages
BetterStevia utilizes whole leaf extract that retains the pure sweetness of real stevia, as opposed to other products that isolate only fractions. This pure form ensures there is no bitter aftertaste.
Features:
Certified Non GMO
Zero calories
Vegan friendly
No artificial colours, flavours or preservatives
Ingredients:
Distilled water, Organic Steviol glycosides (Stevia rebaudiana leaf extract), Cane Alcohol. Contains 11% Alcohol.
Highlights

Shipping & Returns
Unfortunately, due to the nature of this item, we cannot accept any returns.
We are only able to ship this item to Canadian customers.
Click here for more information
Rated

2

out of

5
by
Christopher
from
I'll have to disagree with Sandra, I definitely get an aftertaste (though it's "not bitter"--so as advertised, I suppose!). And be warned that Stevia does not taste precisely like sugar. It is sweet, but it's a different kind of sweet. I bought it hoping to use it in coffee, but it just doesn't work for me. Better off using liquid splenda.
Date published: 2011-07-06
Rated

5

out of

5
by
Miriam
from
I really like this product! It tastes really sweet though (3 to 10 times sweeter than sugar) so make sure you use only 1 to 4 drops in whatever you eat. What is great about stevia is that it is a natural product, 0 calorie and it does not affect blood sugar levels.
Date published: 2015-02-06
Rated

5

out of

5
by
CRYSTAL
from
I like that this one is glycerin free. It mixes in liquids on it's own better and doesn't require stirring. I find the ones with glycerin settle on the bottom. I use this product mainly to make lemonade.
Date published: 2016-08-21
Rated

4

out of

5
by
Evelyn
from
This liquid Stevia when used sparingly does not have a after taste in hot drinks.It does work in baking to increase sweetness so you can use less honey or other sweetners as well
Date published: 2012-01-19
Rated

4

out of

5
by
Mitch
from
Great in herbal teas and smoothies. Just a couple of drops does the trick... bottle lasts for months. Doesn't work so well in things like coffee, but all in all a great product.
Date published: 2012-04-10
Rated

5

out of

5
by
Ann
from
Use this in my coffee regularly. The liquid is great as it doesn't leave sediment in the bottom like the tablets do.
Date published: 2018-08-09
Rated

5

out of

5
by
Sandra
from
Great, no unpleasant aftertaste like other sweeteners....and it's natural!
Date published: 2011-03-19
Rated

5

out of

5
by
Cristine
from
Good brand no after taste
Date published: 2019-10-06