NOW Foods
NOW BetterStevia Liquid Sweetener French Vanilla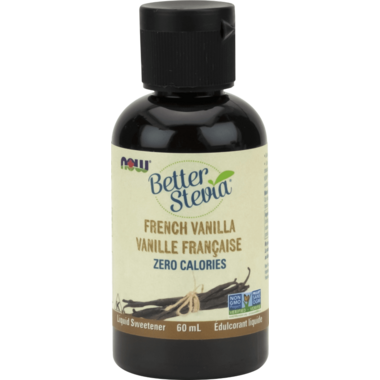 NOW Foods
NOW BetterStevia Liquid Sweetener French Vanilla
60 mL
NOW BetterStevia Liquid Sweetener French Vanilla
is rated out of
5
by
29
.
---
Description
BetterStevia is a zero-calorie, low glycemic, non-GMO, plant-derived sweetener that makes a sensible substitute for other sweetners when baking or trying to liven up your beverages
BetterStevia utilizes whole leaf extract that retains the pure sweetness of real stevia, as opposed to other products that isolate only fractions. This pure form ensures there is no bitter aftertaste.
Features:
Certified Non GMO
Zero calories
Vegan friendly
No artificial colours, flavours or preservatives
Ingredients: Vegetable Glycerin, Organic Stevia Extract Steviol glycosides (Stevia rebaudiana leaf extract), Natural French Vanilla flavour (in an ethanol base). Contains 12% Alcohol.
Highlights

Shipping & Returns
Rated

5

out of

5
by
Anjer
from
Found my new brand.
I've tried many different kinds of Stevia and usually find they leave an after taste that I don't like. This one doesn't!! Love it. Some people note that it has a coconut taste to it. And I have to agree. It does. But since I somewhat expected it, I wasn't bothered by it. And yes I know it's "french" vanilla. Not just plain vanilla. Still tastes more like coconut than a custard like Taste. Easy to drop/drip a few drops into my coffee. I do find it's not as sweet as some Other brands. so I need a couple more drops to get my desired sweetness. definitely recommend Trying this one!
Date published: 2021-08-13
Rated

4

out of

5
by
Nikki
from
I've been trying to cut down on sugar. It's been tough, as I have a huge sweet tooth! I've tried Stevia brands in the past, and they've had a horrible mediciney aftertaste, but this one is surprisingly mild! Just a tiny tinge. I use this in my coffee and it's pretty good! The vanilla taste is not overpowering. Just right. If you're new, add one drop at a time and see what you like. Waiting for the next sale to try other flavors! :)
Date published: 2016-04-04
Rated

4

out of

5
by
Jeri
from
Like another review said, it does have a taste reminiscent of vanilla with something else, possibly coconut? It did not have the pure creamy vanilla taste I had expected, but it still tastes good. My favourite flavour of this brand is by far the English Toffee that well.ca doesn't carry for some reason.
Date published: 2018-05-21
Rated

4

out of

5
by
amymichoux
from
Making mornings a little bit sweeter!
I bought this to help liven up my coffee. A few drop in the bottom of my mug + coffee and frothy warm milk with a touch of cinnamon rivals Starbucks cinnamon dolce latte!
Date published: 2020-04-26
Rated

5

out of

5
by
Anonymous
from
Very nice alternative
I use this to sweeten plain yogurt and I love the subtle flavor. It is not quite as sweet as their plain liquid stevia which I like.
Date published: 2020-04-30
Rated

5

out of

5
by
Marie
from
I use it in my water. Just a couple of drops makes it smell like vanilla and gives it just a hint of sweetness. I hate plain water, so it's absolutely great for me. I'm sure if I drank coffee, it would be even more of a favourite!
Date published: 2018-07-21
Rated

5

out of

5
by
Mara
from
Some reviewers mentioned that there is another flavour added to the stevia. I don't know what that flavour might be, but this stevia is called, French Vanilla, not just vanilla. If you want plain vanilla look for something else. I've been using this for years in tea lattes, and cocoa. Love it.
Date published: 2018-12-08
Rated

1

out of

5
by
S
from
There's just a weird aftertaste with this. It just doesn't taste so great. I've never tried stevia before - this was my first time - and I don't think I will be trying it again. Whenever I put it in my coffee, my coffee tastes gross :(
Date published: 2012-07-28