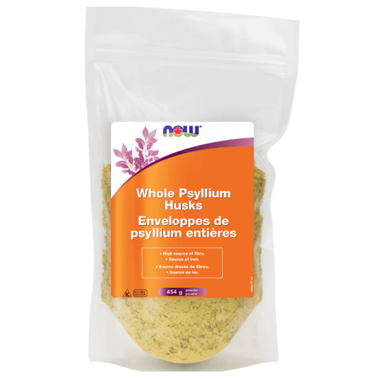 454 g
NOW Food Whole Psyllium Husks
is rated out of
5
by
30
.
---
Description
NOW Food Whole Psyllium Husks are true dietary fibers, even though it is classified by some as a laxative or mucilaginous fiber, and is a convenient way to increase intake of dietary fiber because of its high mucilage content. This bulking agent swells considerably when added to liquid, which can help to support healthy gastrointestinal transit time. This bulking action and healthy transit time can play an important role in maintaining healthy gastrointestinal function.
Features:
Gentle relief of occasional constipation.
Promotes bowel movement by increasing bulk volume and water content.
Bulk-forming laxative.
Soluble Fibre source
Bag packaging
Corn free, egg free, soy free, halal
Directions:
Dosages:
Children 6 - 12 years: Take 2 teaspoons, 3 times daily. 12 years old to Adults: Take 4 teaspoons, 3 times daily. Mix each dose into 250 mL (1 cup) of liquid, stir briskly and drink immediately. Produces bowel movement in 12 to 72 hours (3 days).

Ingredients:
Each teaspoon (5 mL) contains:
Psyllium (Plantago ovata) (Seed Husks) --- 1.7 g
Non-Medicinal Ingredients:
None.
Caution: Consult a health care practitioner if symptoms worsen or if laxative effect does not occur within seven days. Consult a health care practitioner immediately if you experience chest pain, vomiting, or difficulty in swallowing or breathing after taking this product. Consult a health care practitioner prior to use if you are taking medications which inhibit peristaltic movement (e.g. opioids, loperamide) and/or if you have symptoms such as abdominal pain, nausea, vomiting or fever (as these could be signs of abnormal constrictions of the gastrointestinal tract, diseases of the oesophagus and/or the superior opening of the stomach (cardia), potential or existing intestinal blockage, paralysis of the intestine, megacolon, faecal impaction, inflamed bowel or appendicitis). Do not use if you are experiencing a sudden change in bowel habits that has persisted for more than 2 weeks, undiagnosed rectal bleeding, failure to defaecate following the use of another laxative product, if you have diabetes mellitus in which blood sugar is difficult to regulate and/or difficulty swallowing. Hypersensitivity, such as allergy, has been known to occur following inhaled and/or ingested psyllium; in which case, discontinue use. May cause temporary gas and/or bloating.
Highlights

Shipping & Returns
Rated

5

out of

5
by
April
from
Love this product! I use it to make non-toxic borax free slime for my daughter to play with. 1 tbsp psyllium with 1 cup water in a pot, stir and heat up, add dye and glitter!
Date published: 2017-05-24
Rated

5

out of

5
by
Anne14
from
Excelent source of fibre
I bought this for my cat who has some digestive issues. We've been giving her psyllium for about 5 years now. I give her 1/4 ts twice a day mixed into her wet food. Works well and she is fine with the taste. I use the psyllium myself mixed in water when I haven't eaten enough fibre. Would recommend.
Date published: 2021-01-03
Rated

5

out of

5
by
Samantha
from
Love this on my lower fiber days. Add it to plain yogurt as well as my other yogurt fixings and you would never know its in there! Yummy
Date published: 2012-07-26
Rated

5

out of

5
by
Jay
from
This is a great product. When I'm down in the States it is easy to find bulk psyllium husk - even Walmart carries it. But it is not easy to find husk psyllium (as opposed to powder) in Canada, and for such an affordable price. Plus it does the body wonders, especially if you have somewhat sedentary employment. The SAD diet is deficient in fiber and this is a great way to increase it. Plus I hate those sugared orange and red powdered varieties.
Date published: 2013-08-22
Rated

5

out of

5
by
Donna
from
I use Now Whole Psyllium Husks every evening with dinner. It is a great product.... excellent price, and I actually like the neutral taste (can't stand the orange and berry flavours some of the other brands have come up with). Also, it really works!
Date published: 2013-07-03
Rated

5

out of

5
by
sandy65
from
Excellent
I have been buying this for several years now as my husband is prediabetic and needs to increase his fibre intake. This product works like a charm, it disolves easily and doesn't cause bloating or cramps. I highly recommend it.
Date published: 2021-01-28
Rated

5

out of

5
by
Wendy
from
My husband uses this and just loves it. It is a great form form of fibre, doesn't taste bad and uses it every day. No more Metamucil for him, strictly Psyllium fibre! A marvelous product! Highly recommended!
Date published: 2012-08-14
Rated

5

out of

5
by
Lynne
from
This is an excellent product. My husband and I take it each morning and we both find it keeps our digestive system running smoothly. We wouldn't be without it and even take it with us when we travel .
Date published: 2016-07-12