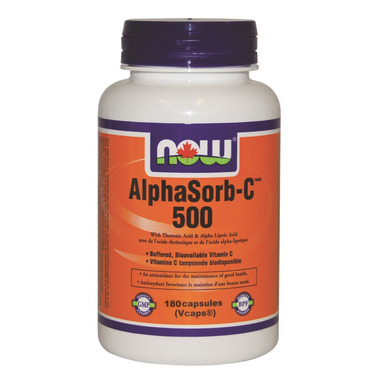 Description
Containing a number of buffs to increase the absorption and generation of Vitamin C as well as a powerful antioxidant, this product is the perfect complement to any diet for maintaining a healthy immune system. Vitamin C is best known as an antioxidant that can protect the body's cells and molecules from damage by free radicals. NOW® AlphaSorb-C® represents the next generation of calcium-buffered vitamin C.

NOW® AlphaSorb-C® includes Transport C-PLUS®, a trademarked combination of Threonic Acid-enhanced, buffered (non-acidic) Calcium Ascorbate with Alpha Lipoic Acid. Threonic Acid is a Vitamin C metabolite that has been shown to enhance cellular uptake of Vitamin C. Alpha Lipoic Acid functions as a free radical scavenger that can help regenerate Vitamin C in the body and may also enhance its utilization. With this unique formula, NOW has created a well-absorbed and highly biologically available Vitamin C supplement.
Features:
Antioxidant Protection
Threonic Acid & Alpha Lipoic Acid Enhanced
Buffered, Bioavailable Vitamin C
Patent Pending
Vegetarian Formula

Other Ingredients: Cellulose (capsule), Cellulose, Stearic Acid (vegetable source), Magnesium Stearate (vegetable source) and Silica. Vegetarian/Vegan Product.

Highlights

Shipping & Returns