NOW Foods
NOW Foods Boron (Ca Borogluconate) 3mg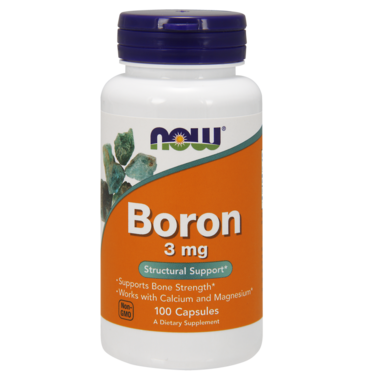 NOW Foods
NOW Foods Boron (Ca Borogluconate) 3mg
Description
A mineral that helps you absorb other minerals may sound funny to say out loud, but that is the absolute truth with Boron. A biologically active trace mineral, that affects calcium, magnesium and phosphorus metabolism. Boron is known to support bone strength and structure. Calcium Borogluconate is bioactive, or "body- ready", and needs no transformation by the liver to be utilized. This 3mg dosage is our highest potency offering. Higher dosage so you can make the most of every capsule.
Features:

Helps maintain healthy mineral absorption
Contributes to bone strength

High potency 3g dosage

Capsule delivery for improved absorption

Directions:
(Adults) Take one capsule daily.
Medicinal Ingredients: Boron (from Calcium Borogluconate) 3 mg

Non-Medicinal: Ingredients: Rice Flour, Capsule (gelatin, water), Stearic Acid (vegetable source)
Highlights

Shipping & Returns