NOW Foods
NOW Foods Chewable Papaya Enzymes With Mint & Chlorophyll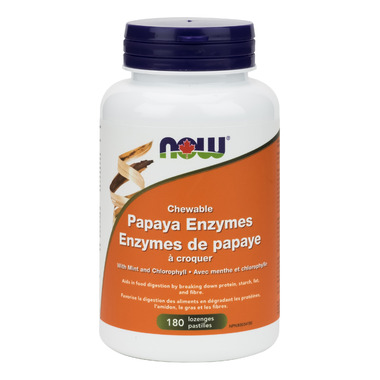 NOW Foods
NOW Foods Chewable Papaya Enzymes With Mint & Chlorophyll
180 Count
NOW Foods Chewable Papaya Enzymes With Mint and Chlorophyll
is rated out of
5
by
3
.
---
Description
Our bodies create digestive enzymes as an essential way to absorb nutrients and make the full use of the food we eat. Unfortunately, this is to diminishing returns as our bodies age and produce less and less enzymes. NOW® Papaya Enzyme Lozenges have a refreshing taste and support digestion when taken after meals. The tablets are made from whole, unripe, spray-dried Papaya powder, and contain 40 mg of Papaya per Lozenge. In addition, Protease, Lipase and Cellulase have been included for a full spectrum of enzymatic activity.
Features:
Digestive enzymes to help digest proteins
Source of antioxidants that help protect against cell damage caused by free radicals
Aids in food digestion by breaking down protein, starch, fat, and fibre
Chewable Digestive Enzyme
With Mint and Chlorophyll for fresh breath
Vegetarian / Vegan

Suggested Usage: As a dietary supplement, chew or dissolve 2 lozenges in mouth following meals or as needed. Consider taking this product in combination with NOW G.I. Support, Optimal Digestive System and DGL.
Medicinal Ingredients:
4-(1,3;1,4)-beta-D-Glucan 4-glucanohydrolase 0.312 milligrams 1.248 USP Chymotrypsin Units
4-alpha-D-Glucan glucanohydrolase 1.0 milligrams
25.0 FCC DU
Carica papaya 40.0 milligrams
Fungal protease 10.0 milligrams
50.0 FCC HUT
Papain 50.0 milligrams
100000.0 FCC PU
Stem bromelain 10.0 milligrams
360000.0 FCC PU
Triacylglycerol lipase 1.0 milligrams
10.0 FCC LU

Other Ingredients: Sorbitol, Mannitol, Stearic Acid (vegetable source), Magnesium Stearate (vegetable source), Silica, Peppermint Powder, Peppermint Oil and Sodium Copper Chlorophyllin. Vegetarian/Vegan Product.
Caution: Consult a health care practitioner prior to use if you are pregnant or breastfeeding, if you have diabetes or a gastrointestinal lesion/ulcer, if you are taking anticoagulant/blood thinners or an anti-inflammatory, if you are having surgery, or if you have allergy to latex or fruits (such as avocado, banana, chestnut, passion fruit, fig, melon, mango, kiwi, pineapple, peach and tomato).
Known Adverse Reactions: Hypersensitivity/allergy has been known to occur; in which case, discontinue use. Nausea, vomiting, and diarrhoea have been known to occur, in which case discontinue use (and consult a health care practitioner).

Highlights

Shipping & Returns
Rated

5

out of

5
by
Tlizzy
from
Help with my digestive issues
I have been using these digestive enzymes for years when needed but recently have had alot of digestive problems due to chemo. I started having acid reflux pretty bad and the side effects of the medication they gave me for it were worse than it helped. I now take these with my meals and they really work to keep away the acid. It helps that they also taste good.
Date published: 2021-12-03
Rated

5

out of

5
by
Anonymous
from
They really do help
My partner and I love these. They really do help with digestion and gas.
Date published: 2021-05-05
Rated

4

out of

5
by
gjimmy
from
Does help with digestion
We can't always get fresh papaya, so this is the next best thing. The mint and chlorophyll also help ...
Date published: 2023-01-25