NOW Foods
NOW Foods CoQ10 with Lecithin and Fish Oil Softgels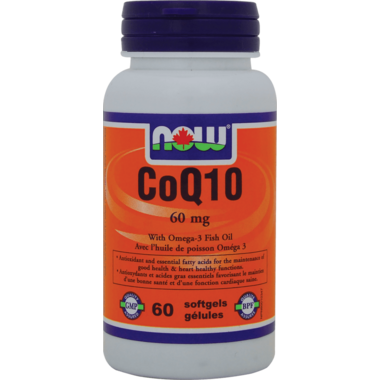 NOW Foods
NOW Foods CoQ10 with Lecithin and Fish Oil Softgels
Description
NOW Foods CoQ10 with Lecithin and Fish Oil Softgels are a combination supplement for CoQ10 and Omega-3s. This combination of CoQ10, Lecithin and Omega-3 Fish Oils is designed to support cardiovascular health. Coenzyme Q10 is a vitamin-like compound also called ubiquinone. It is an essential component of cells and is necessary for mitochondrial energy production. Years of research has shown that CoQ10 supports healthy cardiovascular and immune system functions in addition to its vital role in cellular energy production.
Features:
Antioxidant and Essential fatty acids
Maintains good health
Maintains heart health
Combines CoQ10, Lecithin, and Omega-3 Fish Oils
Egg free
Directions:
Adult Dosage: Take 1 softgel 1-2 times daily with meals.
Ingredients:
Each softgel contains:
Coenzyme Q10 (as Ubidecarenone) 60 mg
Fish Oil (Sardine, Mackerel, and Anchovy Whole Body Oil) 250 mg
Total Omega-3 Fatty Acids 75 mg
Eicosapentaenoic Acid (EPA) 40 mg
Docosahexaenoic Acid (DHA) 25 mg
Lecithin (Glycine spp.) (Soybean Oil) 200 mg
Non-Medicinal Ingredients:
Rice Bran Oil, Softgel (gelatin, glycerin, water, carob, annatto extract), Yellow Beeswax, Mixed Tocopherols.
Contains no titanium dioxide. Separation and colour variation in the softgel is natural and doesn't affect product quality.
Caution:
Consult a health care practitioner prior to use if you are currently taking any of these medications: anticoagulant/antiplatelet, chemotherapeutics, cyclosporines, statins, warfarin, antihypertensive medications or if you will have an angioplasty or suffer from a bleeding disorder. Do not use if you are pregnant or breastfeeding.
Highlights

Shipping & Returns