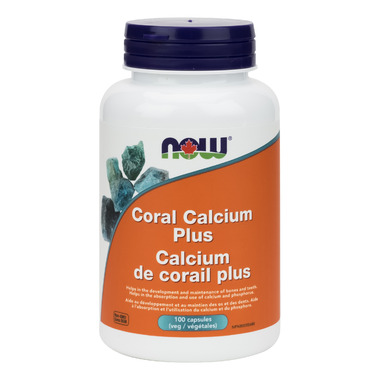 Description
A natural answer to all things bone health. This vitamin not only contains calcium to development and maintain stronger bones and teeth, but also facilitates better absorption of calcium from other sources. In this Coral Calcium Plus formula, Magnesium and Vitamin D have been added because of their essential role in bone metabolism.
NOW Coral Calcium Plus contains an alkaline form of Calcium that can help to support a healthy serum pH. In addition, Coral Calcium contains a number of trace minerals that are important for bone health, as well as for optimal enzymatic activity. NOW Coral Calcium is not harvested from living coral reefs or even from the ocean environment, but from above-ground sources in Okinawa in an ecologically friendly manner.

Features:
Healthy pH Balance
Important for Bone Health
Magnesium & Vitamin D for Bone Metabolism
Other Ingredients: Cellulose (capsule), Silica, Magnesium Stearate (vegetable source), Maltodextrin and Mixed Tocopherols. Contains soy derivative.

Highlights

Shipping & Returns