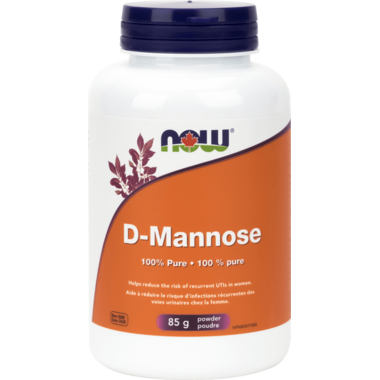 85 g
NOW Foods D-Mannose Powder
is rated out of
5
by
35
.
---
Description
NOW Foods D-Mannose Powder provides you with this carbohydrate in an easily usable powder format. D-Mannose is a simple sugar that occurs naturally in some plants, including cranberries. Although small amounts of D-Mannose are metabolized by the human body, much of it is rapidly excreted in the urine. In the bladder, D-Mannose may adhere to undesirable foreign substances, preventing them from sticking to the lining of the bladder. D-Mannose is by far the most effective supplement for both treatment and prevention of UTIs.
Features:
Simple Carbohydrate.
Pure powder.
A Food Supplement
Vegetarian/Vegan
Egg free
Low sodium
Directions:
Add 1 level teaspoon to water, unsweetened cranberry or other juices, stir and consume

Ingredients:
Each teaspoon contains: D-Mannose 2000 mg.
Caution: For adults only. Consult physician if pregnant/nursing, taking medication, or have a medical condition. Keep out of reach of children.
Do not eat freshness packet enclosed. Keep in bottle.

Highlights

Ingredients
Each teaspoon contains: D-Mannose 2000 mg.
Shipping & Returns
Rated

5

out of

5
by
Sara
from
Since I discovered D-Mannose a few years back, the only time I have suffered a UTI is when I didn't take it after intimate relations with my hubby. No amount of showering, or cleansing with Spectro Gel or peeing right before and right after helped. I used to suffer from chronic UTIs and was on a steady stream of antibiotics for several years with no explanation or other alternative. The doctor told me that I would just continue to have them and that was that. Even wrote me a YEARLY prescription to take a low-dose antibiotic daily. Ridiculous. Once I started taking 1-2 D-Mannose pills after sex I've never had any problems since (other than that one time where I skipped taking it) and am much healthier for it! It is pretty much tasteless, and dissolves quickly in hot or cold beverages. Cont..
Date published: 2012-08-10
Rated

5

out of

5
by
Heather
from
I agree with everyone on here. I take it prophyllactically before and after sex, just about a tsp in water, and my chronic UTIs are mercifully GONE. Some studies say it can actually cure UTIs that have already set in, but use it preventatively, it definitely works and is TOTALLY worth the cost if you're a chronic UTI sufferer!!! Way cheaper than cranberry tablets and antibiotics!! Look up the research on this stuff - it's 100% natural (and NOW's is a good quality product) and it essentially acts as a magnet for E-Coli in the bladder - the bacteria clings to these molecules and are washed out when you urinate. I happily picture them going 'weeeeeeeeee!' out of my bladder!! :) Small downside - in high doses (e.g. if you're trying to get rid of a UTI that you can feel trying to take hold!) can give you a fair bit of gas.
Date published: 2012-10-02
Rated

5

out of

5
by
Sara
from
I take 1/2 a teaspoon in water after sex and then another 1/2 teaspoon in water/tea the next morning and no infections! This product is a godsend for me (and let's be honest, for hubby too!) as I was really starting to dread sex because I knew that if I didn't currently have a UTI, I'd be getting one in a few days :S Hope this helps anyone else that might be having the same problems.
Date published: 2012-08-10
Rated

5

out of

5
by
Adrienne
from
A solid natural health product. Very convenient, inexpensive, and not at all unpleasant to consume. It very lightly sweetens my green tea in the morning :) I prefer it to the capsule form. I believe it has helped prevent recurrent infections, I usually get them in series, but so far so good since the initial infection. I wasn't able to 'cure' the initial infection with this product, but it did temporarily relieve symptoms. Perhaps I was too late in taking it.
Date published: 2012-07-05
Rated

5

out of

5
by
Jackie
from
Wonderful product. I can't say enough about D-Mannose. It is simply wonderful that I hardly ever have to make the trip to the doctor for antibiotics anymore. Having had far too many diagnosed bladder infections in my life time and thus knowing the symptoms, as soon as I feel the tell tale signs of an infection, I take a dose of D-Mannose and feel relief in no time at all.
Date published: 2011-06-27
Rated

5

out of

5
by
Melanie
from
I suffer from chronic bladder infections & find D-Mannose is an awesome product. I take it to prevent infections but, at higher doses it can also be used to treat an infection during to early stages.It dissolves easily in water & has a slight sweet taste, can be added to tea as well. A very helpful product at a very reasonable price at Well.ca.
Date published: 2012-04-12
Rated

5

out of

5
by
Anita
from
This powder is a life saver when you are prone to UTIs. This product is absolutely wonderful. There is hardly any taste to is. Dissolves easily. Way better than the capsule format. It gets absorbed faster into your digestive system and thereby your blood. Delivery is so efficient with well.ca. Also cheaper than in the health food stores.
Date published: 2018-08-22
Rated

5

out of

5
by
Bert
from
I am a caregiver for my spouse. She is bed ridden and is in need of this D-mannose twice a day 365. Once I thought she did not need it. Big mistake. Catheter in for three weeks and on antobiotics. Not a nice scenerio. Sinds then she gets 1/2 tsp D-mannose twice per day. Thank you very very much for this wonderful product.
Date published: 2011-12-22