NOW Foods EVE Women's Multivitamin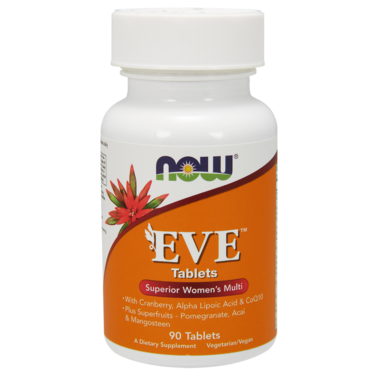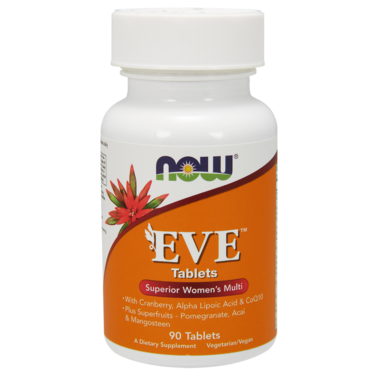 NOW Foods EVE Women's Multivitamin
NOW Foods EVE Women's Multivitamin is a vitamins and mineral formula for the maintenance of good health specially designed for women. It helps in the maintenance of bones, eyesight, skin, membranes and immune function.

Directions: Adult Dosage: Take 1 tablet twice daily with food, a few hours before or after taking other medications or health products. Consult a health care practitioner for use beyond 3 months.

Ingredients (each tablet contains): Beta-carotene 2000mcg (3333IU); Vitamin C 103.068mg; Vitamin D 8.325mcg (333IU); Vitamin E 44.63mg AT (66.667IU); Vitamin K1 11.667mcg; Vitamin K2 15mcg; Thiamine 8.333mg; Riboflavin 8.333mg; Niacin 1.667mg; Vitamin B6 8.333mg; Niacinamide 8.333mg; Folate 266.667mcg; Vitamin B12 66.667mcg; Biotin 100mcg; Pantothenic Acid 16.667g; Calcium 83.333mg; Iodine 50mcg; Magnesium 33.333mg; Zinc 5mg; Iron 6mg; Selenium 66.667mcg; Copper 333mcg; Chromium 40mcg; Manganese 867mcg; Molybdenum 25mcg; Potassium 8.333mg; Choline 8.333mg; Inositol 8.333mg; Lutein 166.667mcg; Coenzyme Q10 10mg; Lycopene 166.667mcg; ALA 10mg; Aloe Vera 8.333mg; Cranberry 33.333mg; Acai 16.667mg; Pomegranate Extract 16.667mg; Mangosteen Extract 16.667mg

Non-Medicinal Ingredients: Cellulose, tablet coating (hypromellose, calcium carbonate, xylitol, spirulina, trehalose dehydrate, riboflavin, medium chain triglycerides), silica, stearic acid (vegetable source), ascorbyl palmitate, croscarmellose sodium.

Caution: Do not use if you are pregnant or breastfeeding, if you have abnormal constrictions of the gastrointestinal tract, potential or existing intestinal blockage, atonic bowel, appendicitis, inflammatory colon disease (e.g. Crohn's disease or ulcerative colitis), abdominal pain of unknown origin, undiagnosed rectal bleeding, severe dehydration with depleted water or electrolytes, hemorrhoids or diarrhea. Consult a health care practitioner prior to use if you are taking blood thinners or blood pressure medication, cardiac medications (.g. cardiac glycosides or antiarrhythmic medications), thiazide diuretics, corticosteroids, licorice root or other medications or health products which may aggravate electrolyte imbalance. Consult a health care practitioner prior to use if you have a history of kidney stones or a kidney disorder, if you have diabetes or if you have fecal impaction or symptoms such as abdominal pain, nausea, vomiting or fever, or if symptoms persist or worsen. Hypersensitivity/allergy has been known to occur to acai or plants of the Arecaeae family; in such case, discontinue use. Reduce dose or discontinue use if you experience abdominal pain, cramps, spasms and/or diarrhea. Keep out of reach of children. There is enough iron in this package to seriously harm a child.