NOW Foods Extra Strength BerryDophilus Chewables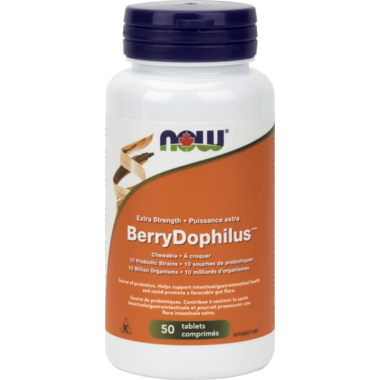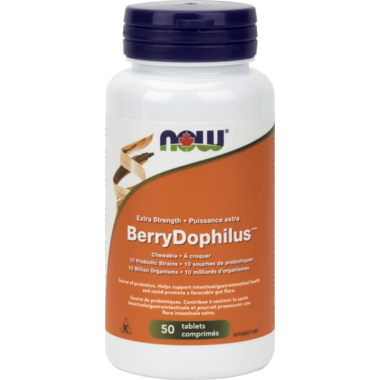 NOW Foods Extra Strength BerryDophilus Chewables
Please be advised that Well.ca follows manufacturer guidelines for storing & shipping probiotics.
NOW Foods BerryDophilus Extra Strength Chewables provides 10 Billion CFU (Colony Forming Units) from a combination of 10 clinically validated probiotic bacterial strains designed to support gastrointestinal health and healthy immune system function. Healthy intestinal flora also helps to create a favourable environment for the absorption of nutrients. BerryDophilus can be used by both adults and children. Sweetened with Xylitol and Sorbitol, BerryDophilus won't harm teeth and it tastes great. Plus these two sweetners have been shown to be anti-bacterial, helping to support overall effectiveness. This pleasant, natural mixed berry flavoured chewable tablet will make it enjoyable to take everyday.
Features:
Source of Probioitics
Helps support intestinal / gastrointestinal health
Could promote a favourable gut flora
10 Billion, 10 Probiotic Strains
For Adults and Children (3+ yrs)
Chewable Probiotic with FOS
5x stronger than our regular Berrydophilus
Xylitol and Sorbitol Sweetened
Directions:
For adults, adolescents, and children 3 and up: Take 1 tablet, 1 to 3 times daily. If you are on antibiotics, take at least 2 to 3 hours before or after. For best results, keep refrigerated to maintain potency.
Ingredients:
Each Chewable Tablet contains: Probiotics (Blend of 10 strains), 10 Billion CFU; Lactobacillus acidophilus (La-14), Bifidobacterium lactis (Bl-04), Lactobacillus plantarum (Lp-115), Lactobacillus salivarius ( Ls-33), Lactobacillus casei (Lc-11), Streptococcus thermophilus (St 21), Lactobacillus rhamnosus (Lr-32) , Bifidobacterium breve (Bb-04) , Bifidobacterium longum (Bl-05), Lactobacillus paracasei (Lpc-37)
Non-Medicinal Ingredients:
Xylitol, Sorbitol, FOS (fructooligosaccharides), Cellulose, Stearic Acid (vegetable source), Silica, Malic Acid, Natural Flavours (Raspberry, Strawberry, Cherry), Natural Beet Colour.
Caution:
Consult a health care practitioner prior to use if you have fever, vomiting, bloody diarrhea, or severe abdominal pain. If symptoms of digestive upset (e.g. diarrhea) occur, worse, or persist beyond 3 days, discontinue use and consult a health care practitioner. Do not use this product if you have an immune-compromised condition (e.g. AIDS, lymphoma, patients undergoing long-term corticosteroid treatment).
Please be advised that Well.ca follows manufacturer guidelines for storing & shipping probiotics.