NOW Foods
NOW Foods Flush-Free Niacin Double Strength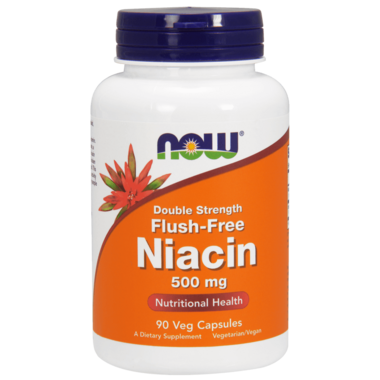 NOW Foods
NOW Foods Flush-Free Niacin Double Strength
Description
NOW Foods Flush-Free Niacin Double Strength is a high-potency formula of Niacin. Niacin (Vitamin B-3) is an essential B-vitamin necessary for good health. Many Niacin supplements cause a temporary Niacin flush or tingling red rash on the skin when taken in large doses. This flush-free Niacin is formulated to avoid such reactions.
Features:
A factor in the maintenance of good health
Helps normal growth and development
Helps the body to metabolize proteins, fats and carbohydrates
Double-strength formula
Vegetarian / Vegan
Directions:
Adult Dosage: Take 1 capsule daily with meals. Avoid taking with hot drinks.
Ingredients:
Each capsule contains:
Inositol Hexanicotinate 640 mg, providing:
Niacin 500 mg
Inositol 135 mg
Non-Medicinal Ingredients:
Veg Capsule (hypromellose, water), Stearic Acid (vegetable source), Magnesium Stearate (vegetable source) Rice Flour, Silica.
Caution:
Consult a health care practitioner prior to use if you suffer from any of the following: impaired liver function, kidney disease, diabetes, gallbladder disease, gout, peptic ulcer disease, or if you are taking any of the following medications: blood thinners, anticoagulant/antiplatetlets, antidiabetics, statins or transdermal nicotine. Do not use if you are pregnant or breastfeeding.
Highlights

Shipping & Returns