NOW Foods Instand Energy Extreme B12 Liquid Shots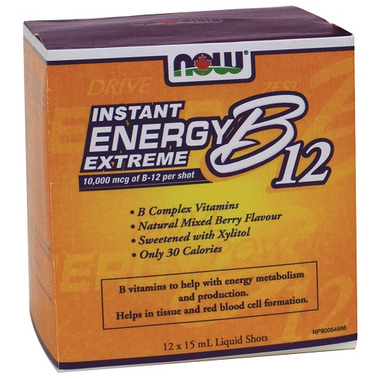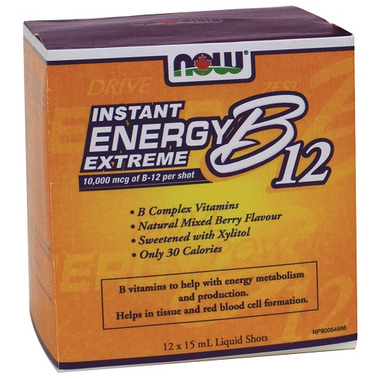 NOW Foods Instand Energy Extreme B12 Liquid Shots
Energy boosters shouldn't leave you feeling more tired than when you began. Many products in the energy category use caffeine or stimulant-based ingredients to provide an energy boost. This can result in a "jolt and crash" scenario leaving the user to feel less energized in the long run while depleting nutrient stores in the body, plus adding metabolic waste that may impair cell function. NOW® Instant Energy Extreme B12 avoids caffeine and stimulants while using supportive ingredients to provide an energy boost that will last. This Liquid version provides a ready-to-drink option that provides an ultra-high dosage of 10,000 mcg of Vitamin B12. Providing the energy you need while being gentle on your system.
Features:
B complex vitamins
Natural mixed berry flavour
Sweetened with xylitol
Only 30 calories
Ingredients: Each tube (15mL) contains
: Vitamin B1 (from Thiamin HCl) 3 mg, Riboflavin (Vitamin B2) 3.4 mg, Niacinamide (Vitamin B3) 50 mg, Vitamin B6 (from Pyridoxine HCl) 10 mg, Folic Acid 400 mcg, Vitamin B12 (as Cyanocobalamin) 10 mg, Biotin 300 mcg, Pantothenic acid (from calcium pantothenate) 50 mg, Choline (from Choline Bitartrate) 5 mg, Inositol 5 mg
Non-Medicinal Ingredients: Vegetable Glycerin , Xylitol, Malic Acid, De-ionized Water, Natural Creamy Vanilla, Strawberry, Raspberry and Cherry Flavours, Potassium Sorbate.