NOW Foods
NOW Foods Liquid Multi Gels with Flax Oil Softgels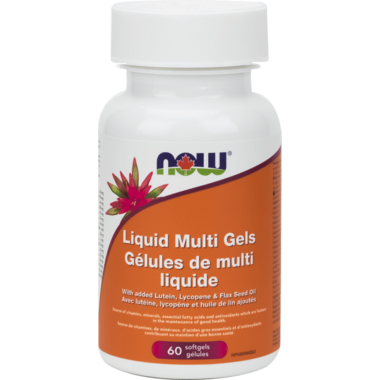 NOW Foods
NOW Foods Liquid Multi Gels with Flax Oil Softgels
Description
NOW Foods Liquid Multi Gels with Flax Oil Softgels are multivitamins for daily consumption. When choosing a quality multiple, there are many elements to consider including potency, profile balance and integrity, core ingredients, safety and synergistic potential. As one of the Natural Product Industry's foremost leaders in quality, science-based multiples, NOW is pleased to offer NOW Liquid Multi Gels. This easy-to-swallow multiple provides a high potency B-Complex, a complete mineral profile, plus phytonutrients including Omega-3's - a unique combination.
Features:
Multi-vitamin and mineral supplement
Maintains good health
Helps in normal growth and development.
High potency, easy-to-swallow softgel for fast absorption
With added Lutein, Lycopene & Flax Seed Oil
Egg free
Directions:
Adult Dosage: Take 2 Softgels daily, preferably with meals. Take a few hours before or after other medications.
Ingredients:
Each softgel contains:
Vitamin A(as Retinyl Palmitate 2000 IU (604 mcg RAE)
Beta-Carotene 3000 IU (1.8 mg)
Thiamine (as Thiamine HCl) (Vitamin B1) 25 mg
Riboflavin (Vitamin B2) 12.5 mg
Niacin (as Niacinamide) (Vitamin B3) 25 mg
Pantothenic Acid (from Calcium D-Pantothenate) 25 mg
Vitamin B6 (from Pyridoxine HCl) 25 mg
Vitamin B12 (as Cyanocobalamin) 50 mcg
Folate (as Folic Acid) 400 mcg
Vitamin C (as Ascorbic Acid) 150 mg
Vitamin D3 (as Cholecalciferol) 200 IU (5 mcg)
Calcium (from Calcium Carbonate, Calcium Citrate and Calcium AAC*) 50 mg
Vitamin E (as D-Alpha Tocopherol) 200 IU (134 mg AT)
Alpha Lipoic Acid 15 mg
Biotin 150 mcg
Boron (from Boron Citrate) 250 mcg
Lutein (from Marigold extract) 125 mcg
Lycopene (from Natural Tomato Extract) 125 mcg
Chromium (from Chromium AAC*) 60 mcg
Copper (from Copper AAC*) 500 mcg
Inositol 12.5mg
Iodine (from Potassium Iodide) 75 mcg
Iron (from Ferrochel® Iron AAC*) 4.5 mg
Magnesium (from Magnesium Oxide and Magnesium Citrate) 50 mg
Manganese (from Manganese AAC*) 1 mg
Molybdenum (from Sodium Molybdate) 12.5 mcg
PABA (Para-amino Benzoic Acid) 25 mg
Potassium (from Potassium Chloride) 12.5 mg
Selenium (from L-selenomethionine) 35 mcg
Vanadium (from Vanadyl Sulfate) 12.5 mcg
Zinc (from zinc AAC*) 7.5 mg
Flaxseed Oil (Linum Usitatissum) 400 mg
AAC* = Amino Acid Chelate
Non-Medicinal Ingredients:
Softgel (gelatin, glycerin, water, carob extract), Yellow Beeswax, Soy Lecithin and Natural Vanilla Extract.
Caution:
Consult a health care practitioner prior to use if you are pregnant or breastfeeding, if you are taking sulfonamides, or if you have cancer, cardiovascular disease or diabetes. Hypersensitivity has been known to occur; in which case, discontinue use. Keep out of the reach of children. There is enough Iron in this product to seriously harm a child.
Highlights

Shipping & Returns