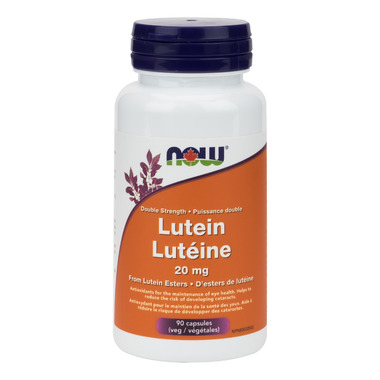 Description
Lutein is the active carotenoid in this potent, natural source antioxidant. It is naturally derived from marigold flowers and contains a normal blend of carotenoids, including Zeaxanthin and Cryptoxanthin. Lutein is a plant pigment that is necessary to maintain the health of the macula, an area of the eye responsible for central and high acuity vision. Scientific studies have shown that Lutein may also serve to protect skin from the damage induced by UV light.

Features:
High Potency
Supports Eye Health
Supports Macular Health
Powerful Antioxidant*
A Dietary Supplement
Vegetarian Formula
Medicinal Ingredient: Lutein esters 40mg

Other Ingredients: Cellulose (capsule), Rice Flour, Stearic Acid (vegetable source), Magnesium Stearate (vegetable source) and Silica. Contains soy derivative.
Caution: Do not use if you are allergic to plants of the Asteraceae/Compositae/Daisy family.

Highlights

Shipping & Returns