NOW Foods OralBiotic Lozenges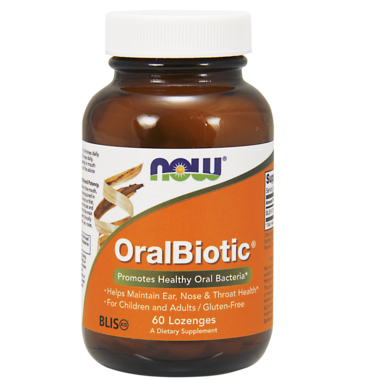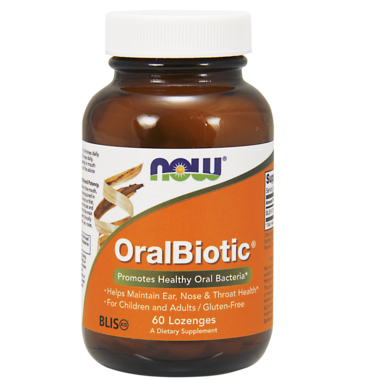 NOW Foods OralBiotic Lozenges
Please be advised that Well.ca follows manufacturer guidelines for storing & shipping probiotics.
- We're sorry, this product is no longer available!
- Shop for other products in: Probiotics

Among the most numerous beneficial bacteria in the mouth, Streptococcus salivarius is typically the first one acquired in infancy. BLIS K12 is a powerful strain of S. salivarius that, when taken regularly, colonizes the mouth and throat and helps to maintain the natural defense system of the main entry point of the body. BLIS K12 has been clinically shown to support the maintenance of mouth, ear, nose, and throat health. This product is formulated with 2 Billion CFU at time of manufacture. Keep refrigerated to maintain live bacteria counts.
Features:
Promotes oral health
An oral probiotic for recolonization of the oral cavity after antibiotic treatment
Source of probiotics
Could promote a favourable gut flora
Helps Maintain Mouth Ear, Nose & Throat Health
Potent 1 Billion active cells at expiry
Enhanced with FOS
Features researched BLIS K12 probiotic strain
For Children and Adults
Directions:
Adults 19 and over: Take 1 to 2 lozenge(s) daily. Allow lozenge to dissolve slowly and completely in mouth and swallow. The lozenge is not to be chewed or directly swallowed, it has to be sucked for about 5 minutes. Before administration of the first lozenge, an antimicrobial mouthwash must be administered. Take at least 2-3 hours before or after antibiotics. Use for a minimum of 10 days.
For best results, refrigerate after opening to maintain potency.

Ingredients:
Each lozenge contains: Streptococcus salivarius (BLIS K12) 1 Billion CFU.
Non-Medicinal Ingredients:
Fructooligosaccharides, Xylitol, Sorbitol, Cellulose, Silica, Stearic Acid (vegetable source), Natural Strawberry Flavour, Natural Beet Colouring, Natural Vanilla Flavour.
Risk Information:
Consult a health care practitioner prior to use if you have nausea, fever, vomiting, bloody diarrhoea or severe abdominal pain. If symptoms of digestive upset (e.g. diarrhoea) occur, worsen, or persist beyond 3 days, discontinue use and consult a health care practitioner. If you have an immune-compromised condition (e.g. AIDS, lymphoma, patients undergoing long-term corticosteroid treatment), do not use this product. This product has come into contact with milk/dairy. If you have a milk/dairy allergy, or if you are taking aminoglycosidic antibiotics (e.g. kanamycin, streptomycin) do not use this product.
Please be advised that Well.ca follows manufacturer guidelines for storing & shipping probiotics.