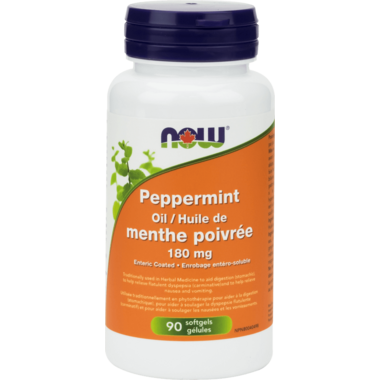 180 mg
90 Capsules
NOW Foods Peppermint Oil Softgels
is rated out of
5
by
29
.
---
Description
NOW Foods Peppermint Oil Softgels are enteric coated to allow passage through the stomach and release within the intestines where it can be helpful in providing relief from occasional minor bowel discomfort. Peppermint oil has been recommended for centuries by traditional herbalists for the support of healthy digestion. More recently, it has been found to support normal gastrointestinal function.

Features:
Traditionally used in Herbal Medicine to aid digestion (stomachic), to help relieve flatulent dyspepsia (carminative)and to help relieve nausea and vomiting
Enteric Coated
With Fennel & Ginger
Egg free
Directions:
Adult Dosage: Take 1 softgel 3 times daily.
Ingredients:
Each softgel contains: Peppermint Essential Oil (Mentha x piperita) (Leaf) 181 mg
Non-Medicinal Ingredients:
Softgel (gelatin, glycerin, water, carob extract), Soybean Oil, Fennel Oil, Ginger Oil and Enteric Coating (methacrylic acid and ethyl acrylate copolymer, water,magnesium silicate, polyethylene glycol).
Caution:
Consult a health care practitioner prior to use if you are pregnant or breastfeeding. Consult a health care practitioner prior to use if you have anaemia, gallstones, hiatus hernia or gastroesophageal reflux. Consult a health care practitioner if symptoms persist or worsen. Hypersensitivity (e.g. allergy) has been known to occur; in which case, discontinue use. Some people may experience gastroesophageal reflux.
Highlights

Shipping & Returns
Rated

5

out of

5
by
Patrick
from
I have been taking peppermint oil capsules for about 2 years now for IBS. I was diagnosed with Irritable Bowel Syndrome 3 years ago by my doctor. He tried me on prescription medication for it with no relief. Then about 2 years ago he suggested I try taking peppermint oil capsules and they worked. The peppermint oil capsules by Now Foods work the best for me. I take 2 before every meal and I have no reactions when eating. Ordering this product from well.ca is a god send. Before I had to hunt them down by going to every heath food store to find them, a lot of times with no luck at finding them. Well.ca shipped mine to me very quickly. I had mine within 2 days of ordering them. Thank you well.ca
Date published: 2011-10-25
Rated

5

out of

5
by
Eleanor
from
I have been using NOW peppermint oil capsules for many years now as it was recommended to help with diverticulosis. Since I started taking the capsules my diverticulosis has totally disappeared so I am very well pleased with the results. I still take them daily (2-4 capsules) to make sure the pain does not come back - when I started taking them I had almost constant pain and discomfort which was very quickly relieved with the capsules.
Date published: 2016-12-18
Rated

5

out of

5
by
Charlotte
from
This has been amazing for my IBS related issues. I frequently get stomach pain, bowel cramping and inflammation as part of my condition. These pills are great at calming my system. I am not a fan of peppermint tea so this works well for me. It also has ginger and fennel which are soothing to the GI tract. There are no prescription medications I have found that work as well as these do for my pain and discomfort.
Date published: 2013-06-04
Rated

4

out of

5
by
Brandon
from
This product does wonders for my IBS. I take two of these a day, one with my lunch, and one with my diner. The only reproach I can make is that the capsules may sometimes open prematurely and cause slight heartburn. However, simply drinking or eating something will make the discomfort go away. Great product overall, and speedy service from Well.ca.
Date published: 2013-08-23
Rated

5

out of

5
by
HelenMarie
from
I believe this is a great product not only for the usual benefits but also it is my opinion that NOW Peppermint Oil also helps those of us who suffer from IBS. In addition to that fact, the people at Well.ca are absolutely wonderful and they provide fast and extremely efficient service and they care about their customers a great deal!
Date published: 2012-02-23
Rated

5

out of

5
by
HelenMarie
from
Great product!! Helps with my IBS a great deal. There have been a couple of times when I have waited too long to re-order but yet Well.ca has never let me down because there speedy delivery has made it so that I have never missed a dosage! Great service and great delivery ~ kudos and thanks to everyone at Well.ca !!!
Date published: 2014-01-23
Rated

4

out of

5
by
SK
from
I used this because peppermint tea helps my IBS and acid reflux, and I thought this would be more potent. It does help, but I dont think its more effective than drinking a few cups of peppermint tea. The capsules are medium-sized, I can swallow them but I wish they were smaller. Im not sure if I will repurchase yet.
Date published: 2012-11-21
Rated

5

out of

5
by
jdrwpg
from
Very Good Product
Peppermint is an important part of managing IBS and this product is the best of all I have ever tried. One caution, though. If you have had to use this in a high dose or over a few weeks DO NOT just stop using it when you are feeling better. Taper off.
Date published: 2021-01-20