NOW Foods Probiotic-10 25 Billion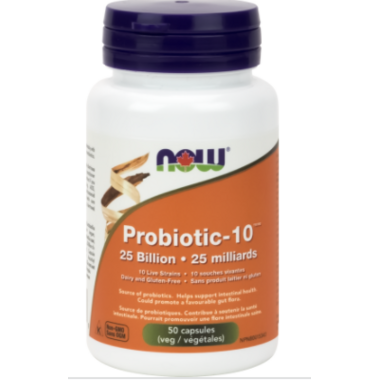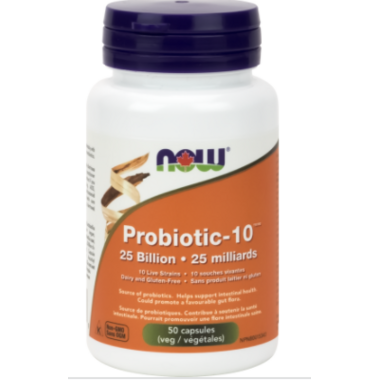 NOW Foods Probiotic-10 25 Billion
NOW® Probiotic-10™ offers a balanced spectrum of live organisms consisting of acid-resistant probiotic bacterial strains that are known to naturally colonize the human GI tract. Probiotic bacteria are critical for healthy digestion, help maintain the integrity of the intestinal lining, support proper intestinal motility and participate in the detoxification process. Probiotic-10™ utilizes bacterial strains that have been clinically validated for their support of healthy immune system function. This product is suitable for vegetarians and vegans
Features:
Probiotics to help support intestinal health

Could promote a favourable gut flora

High Potency 25 Billion, 10 Strains

Dairy and Gluten-Free

Premium formula for therapeutic need
Adult Dosage: Take 1 capsule daily preferably with or before meals and at least 2-3 hours before or after antibiotics. Keep refrigerated to maintain high potency.

Each capsule contains:
Lactobacillus paracasei, Bifidobacterium animalis subsp. lactis,
Lactobacillusplantarum, Lactobacillus acidophilus, Bifidobacterium longum,
Lactobacillus rhamnosus, Streptococcus thermophilus, Lactobacillus casei,
Lactobacillus salivarius, Lactobacillus reuteri................................25 Billion cfu
Non-Medicinal Ingredients: Cellulose, Veg Capsule (hypromellose, water), Fructooligosaccharides, Ascorbyl Palmitate, Silica.

Free Of: Salt, starch, wheat, gluten, soy, milk, egg, shellfish or preservatives.

Please be advised that Well.ca follows manufacturer guidelines for storing & shipping probiotics. This product will be shipped with an ice-pack to maintain product efficacy.