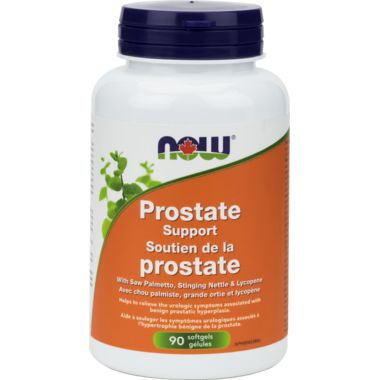 Description
NOW Foods Prostate Support is a blend of standardized extracts of herbs and nutrients. Saw Palmetto has been shown in clinical studies to support prostate function. NOW Foods has provided additional nutritional support with Pumpkin Seed Oil, Zinc, Vitamin B-6 and Lycopene.
Features:
Helps to relieve the urologic symptoms associated with benign prostatic hyperplasia
Standardized Saw Palmetto, Stinging Nettle & Lycopene
Softgel oil-based delivery for improved activity
Egg free, soy free
Directions:
Adult Dosage: Take 2 Softgels 2 times daily with meals. Take a few hours before or a few hours after taking other medications. Use for a minimum of 3 months.
Ingredients:
Each softgel contains:
Pumpkin (Cucurbita pepo) (Seed Oil) 500 mg
Stinging Nettle (Urtica dioca) (Root) 150 mg
Zinc (from Zinc Gluconate) 7.5 mg
Saw Palmetto (Serenoa repens) (Berry) 80 mg (Standardized to contain 85% Fatty Acids)
Lycopene (LYC-O-MATO®, Lycopersicon esculentum) 1.5 mg (from Tomato Fruit Extract)
Vitamin B-6 (from Pyridoxine HCl) 5 mg
Non-Medicinal Ingredients:
Softgel (gelatin, glycerin, carob extract, water), Beeswax.
Caution:
Consult a health care practitioner if you have heart and/or kidney diseases, or if symptoms persist or worsen. Consult a health care practitioner prior to use to exclude a diagnosis of prostate cancer, if you are taking hormone replacement therapy, birth control medication, blood thinners or if you experience gastrointestinal discomfort. Zinc supplementation can cause a copper deficiency. Do not use if you have hypotension or hypertension, if you are taking medication for diabetes, or if you are pregnant or breastfeeding. Discontinue if you experience nausea, headache, and dizziness.
Highlights

Shipping & Returns