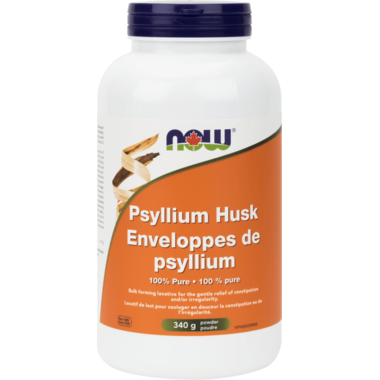 Description
NOW Foods Psyllium Husk Powder is a bulk forming laxative for the gentle relief of constipation and/or irregularity. Psyllium is a true dietary fiber, even though it is classified by some as a laxative or mucilaginous fiber, and is a convenient way to increase intake of dietary fiber because of its high mucilage content. This bulking agent swells considerably when added to liquid, which can help to support healthy gastrointestinal transit time. This bulking action and healthy transit time can play an important role in maintaining healthy gastrointestinal function.
Features:
100% Pure
Vegetarian/Vegan
Soluble Fibre source
Pure powder ideal for sensitive individuals
Corn free, egg free, soy free
Directions:
Adolescents & Adults (> 13 years) Dosages: Mix 1/2 tablespoon (4.5 g) twice daily with 270 ml of liquid. Stir briskly and drink immediately. Maintain adequate fluid intake. Take 2 hours before or after taking other medications. Effects observed 12-24 hours after first dose, and may take 2-3 days
Ingredients:
Each 1/2 tablespoon contains: Psyllium (Plantago ovata) (Seed Husk) 4.5 g
Non-Medicinal Ingredients:
None.
Caution:
Consult a health care practitioner if symptoms worsen or if laxative effect does not occur within seven days. Consult a health care practitioner immediately if you experience chest pain, vomiting, or difficulty in swallowing or breathing after taking this product. Consult a health care practitioner prior to use if you have symptoms such as abdominal pain, nausea, vomiting or fever (as these could be signs of abnormal constrictions of the gastrointestinal tract, diseases of the oesophagus and/or the superior opening of the stomach (cardia), potential or existing intestinal blockage, paralysis of the intestine, megacolon, faecal impaction, inflamed bowel or appendicitis), or if you are taking medications which inhibit peristaltic movement. Do not use if you have difficulty swallowing, if you have diabetes mellitus in which blood sugar is difficult to regulate, or if you are experiencing a sudden change in bowel habits that has persisted for more than 2 weeks, undiagnosed rectal bleeding, or failure to defaecate following the use of another laxative product. Hypersensitivity, such as allergy, has been known to occur following inhaled and/or ingested psyllium; in which case, discontinue use. May cause temporary gas and/or bloating.
Highlights

Shipping & Returns