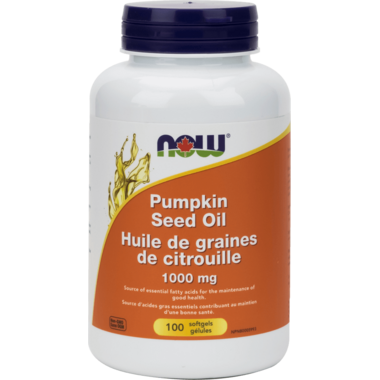 Description
Pumpkin Seed Oil is a nutritional oil rich in essential fatty acids (EFAs). Pumpkin Seed Oil is also known for its high phytosterol content. Scientific studies show that the phytosterols present in Pumpkin Seed Oil provide support for a healthy prostate. NOW Pumpkin Seed Oil is unrefined and derived only from the highest quality expeller-pressed pumpkin seeds.
Features
Supports Healthy Prostate Function
Source of essential fatty acids for the maintenance of good health

Cold pressed, Hexane-Free
Source of Essential Fatty Acids and Phytosterols
Medicinal Ingredient: Cucurbita pepo 1000mg

Other Ingredients: Softgel Capsule (gelatin, glycerin, water).

Highlights

Shipping & Returns