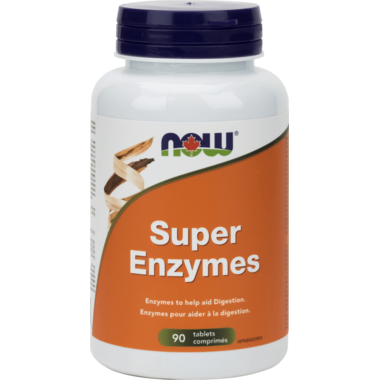 90 Tablets
NOW Foods Super Enzymes Tablets
is rated out of
5
by
6
.
---
Description
NOW Foods Super Enzymes Tablets are a comprehensive blend of enzymes that supports healthy digestion. Formulated with Bromelain, Ox Bile, Pancreatin and Papain, Super Enzymes helps to optimize the breakdown of fats, carbohydrates and protein.
Features:
Enzymes to aid digestion
Comprehensive formula
Breaks down Fats, Carbs & Protein
Tablet Delivery
Egg free, soy free
Directions:
Adult Dosage: Take 1 tablet 1-3 times daily with or immediately before a meal/food. Swallow whole. Do not crush or chew. Use the smallest effective dose which controls symptoms. Consult a health care practitioner for use beyond 4 weeks.
Ingredients:
Each tablet contains:
Betaine Hydrochloride 205 mg
Pancreatic Enzymes (Sus scrofa) (Pancreas) 80 mg, supplying: Amylase 20,000 USP units
Protease 20,000 USP units
Lipase 1,600 USP units
Fruit Bromelain 50 mg (120 GDU; 1800 M FCC PU) (Ananas comosus) (Fruit)
Papain (Carica papaya) (Fruit) 2 mg (100,000 FCC PU)
Cellulase (Aspergillus niger) 0.13 mg (9.75 FCC CU)
Pepsin A (Sus scrofa) (Stomach) 50 mg (500 FCC PU)
Ox Bile (Bos taurus) (Gall Bladder)100 mg, supplying: Cholic Acid 45 mg
Papaya (Carica papaya) (fruit) 45 mg

Non-Medicinal Ingredients:
Cellulose, Calcium Carbonate, Hyprolose, Pharmaceutical Glaze, Silica, Magnesium Stearate (vegetable source), Stearic Acid (vegetable source), Croscarmellose Sodium.
Contains sulfites. May contain lactose (milk) as processing aid.
Caution:
Consult a health care practitioner prior to use if you have cardiovascular disease, gastrointestinal lesions/ulcers, a clotting disorder, stomach or gastrointestinal ailments or pancreatitis, pancreatic exocrine insufficiency or cystic fibrosis, if symptoms persist or worsen, or if you are pregnant or breastfeeding. Consult a health care practitioner prior to use if you are taking anticoagulant agents, other enzyme products, anti-inflammatory agents or antibiotics, before having surgery, or if you have an allergy to latex or fruits (such as avocado, banana, chestnut, passion fruit, fig, melon, mango, kiwi, pineapple, peach, and tomato). Do not use if you are taking blood thinning medication, are sensitive to pancreatic enzymes or to pork proteins. May cause nausea, diarrhea and GI disturbances at very high doses. Nausea, vomiting, abdominal pain/epigastric pain, hypersensitivity/allergy and/or heartburn have been known to occur; in which case, discontinue use (and consult a health care practitioner).
Highlights

Shipping & Returns
Rated

5

out of

5
by
Mike
from
A while back I was having alot of stomach problems, I was always having a full feeling, I went to the walk in doctor at my clinic and was told my problem was too much stomach acid and I was put on acid inhibitors. The problem didn\'t go away so I went to my regular doctor who sent me for a stomach socpe and everything was ok but again I got to hear about stomach acid. I did some research and found out too little stomach acid can produce the same symptoms as too much acid. I started to look for something to increase my stomach acid and found this product and gave it a try and I\'ve been using it for 4 months and my stomach problems have improved 100%. Just goes to show you can\'t always take everything the doctor says as gospel. I highly recommend this product.
Date published: 2011-04-29
Rated

5

out of

5
by
Shams
from
Does exactly what it's says
I spoke to my pharmacist before purchasing just any digestive enzymes and found that this one had everything it's supposed to have. I no longer worry about eating certain foods that get me especially bloated. I got this for my son originally since he no longer has a spleen and only has less than 15% of his pancreas left after an accident. It seems to be helping us both. You can feel and hear it working. So glad I was referred to this product by my chiropractor believe it or not.
Date published: 2021-07-20
Rated

5

out of

5
by
Craig
from
Great product. I always had a full feeling after eating, this product helped me solve that problem.
Date published: 2012-06-22
Rated

5

out of

5
by
Julie
from
I've had stomach troubles for two years and have tried various things... Many, many things... soooo many... This is one of the few that helps with that bloated, painful feeling that comes with eating. I've tried a number of different enzymes as well and some are better than others. This one falls into the better category.
Date published: 2015-10-29
Rated

5

out of

5
by
Cathy
from
Enzymes
This product help with digesting carbs among other things. I've been taking it for years
Date published: 2022-12-03
Rated

5

out of

5
by
Nanny
from
My Stomach is saved
These def work, since taking them, my stomach does not bloat
Date published: 2021-04-19