NOW Foods Ultra Omega 3-D Softgels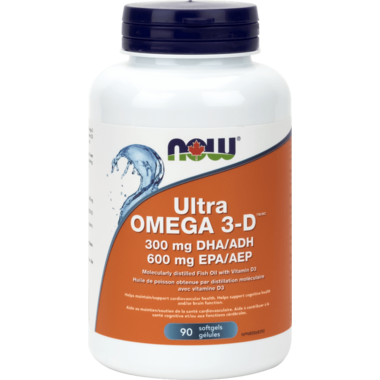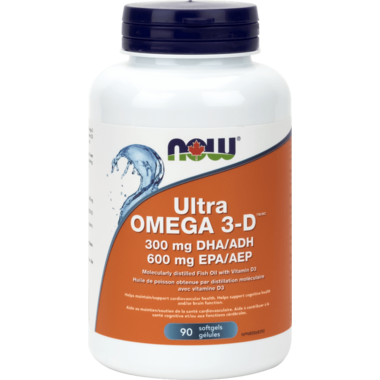 NOW Foods Ultra Omega 3-D Softgels
NOW Foods Ultra Omega 3-D Softgels is their most potent Omega-3 formula, with 600 mg EPA and 300 mg DHA combined with 1,000 IU Vitamin D-3 per softgel. This product is flavoured with lemon oil to reduce after taste if repeat does occur. This 2-in-1 product combines two powerful ingredients into one formula for added health benefits, with less pills, and bottles needed, plus at an economical price versus buying the products separately. Good value, good for the environment, and good for health.
The natural fish oil concentrate used in this softgel is manufactured under strict quality control standards. It is tested to be free of potentially harmful levels of contaminants (i.e. mercury, heavy metals, PCBs, dioxins, and other contaminants).
Features:
Helps maintain/support cardiovascular health
Helps support cognitive health and/or brain function
Combines Omega-3 fish oils with Vitamin D-3
600 EPA / 300 DHA
Molecularly Distilled
1,000 IU Vitamin D-3
Soy free
Directions:
Adults and Adolescents 14 and over: Take 1 softgel daily. Refrigerate after opening. Store in airtight container, protected from light.
Ingredients:
Each softgel contains:
Fish Oil (from Anchovies, Tuna, Sardines) 1385 mg (providing 600 mg EPA and 300 mg DHA)
Vitamin D3 (Cholecalciferol) 25 mcg (1000 IU)
Non-Medicinal Ingredients:
Softgel (gelatin, glycerin, water), Natural Lemon Flavour, Safflower Oil.