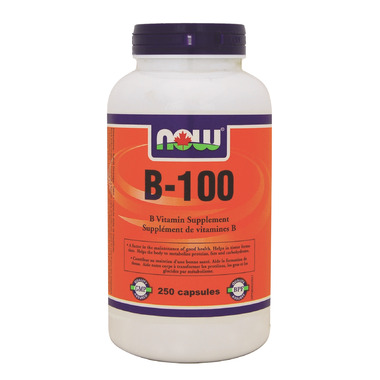 Description
B-100 Caps are a blend of key B vitamins combined with other nutritional factors for enhanced synergism. Water-soluble B vitamins are not stored in the body and must be replenished daily. This is NOW®'s highest potency, multiple B-vitamin product and is designed to provide consumers with the required daily intake in one complete supplement. Formula provides 100 mg of the majority of the B-Complex vitamins.
Features:
Maintains Good Health
Helps in tissue formation including red blood cells, and maintains bones, cartilage, teeth, and gums
Helps metabolize proteins, fats, carbohydrates
High potency 100 mg B Complex
Medicinal Ingredients: Biotin 100mcg, Choline 40mg, Folate 400mcg, Inositol 100mg, Niacinamide 100mg, Pantothenic acid 100mg, Riboflavin 100mg, Thiamine 100mg, Vitamin B12 100mcg, Vitamin B6 100mg, para-Aminobenzoic acid 10mg.

Other Ingredients:
Gelatin (capsule), Magnesium Stearate (vegetable source) and Silica.
Highlights

Shipping & Returns