NOW Foods Vitamin B-50 Blend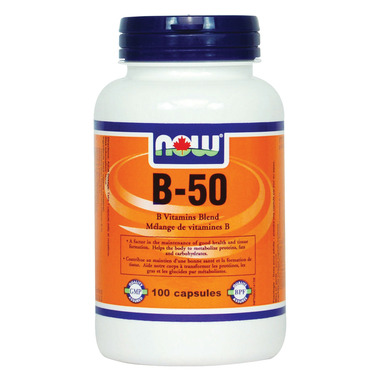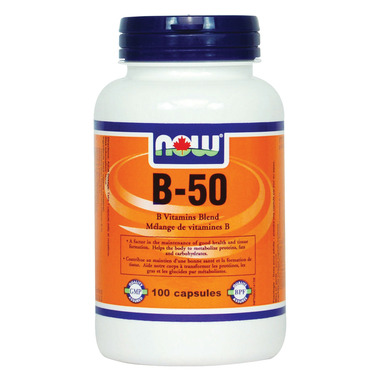 NOW Foods Vitamin B-50 Blend
B-50 Capsules are a blend of key B vitamins combined with other nutritional factors for enhanced synergism. This formula provides recommended potencies of the most important B vitamins and is designed to supply your body's required daily intake in one complete supplement.
Features:
Nutritional Health
B-Complex For Maximum Effectiveness
Supports Energy Production
A Dietary Supplement
Medicinal Ingredients:
Thiamin (Vitamin B-1) (from Thiamin HCI) … 50 mg

Riboflavin (Vitamin B-2) … 50 mg

Niacin (Vitamin B-3) (as Niacinamide) … 50 mg

Vitamin B-6 (from Pyridoxine HCl) … 50 mg

Folate (as Folic Acid) … 400 mcg

Vitamin B-12 (as Cyanocobalamin) … 50 mcg

Biotin … 50 mcg

Pantothenic Acid (from Calcium Pantothenate) … 50 mg

PABA … 25 mg

Choline (from Choline Bitartrate) … 25 mg

Inositol … 25 mg
Other Ingredients: Gelatin (capsule), Cellulose, Silica and Magnesium Stearate (vegetable source).
Contains no: sugar, salt, yeast, wheat, gluten, soy, milk, egg, shellfish or preservatives.


Bobbi:
more than a year ago
Whenever I start getting irritable I know its time for starting on a B-vitamin complex again, I don't know all the reasons for this but it works. We don't always get what we need from our food, for various reasons, and this product supplies what is lacking, as has been expeienced time and again, personally. Read up on the importance of B vitamin sources in the diet, and eat more of those foods and supplement if the diet is not so perfect.
Page
1