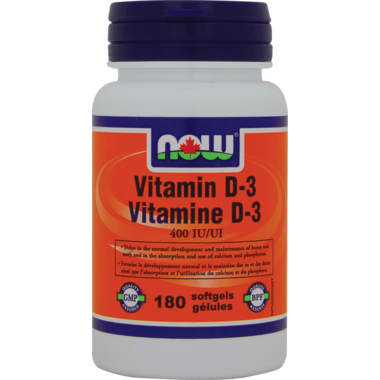 Description
An elusive vitamin to gain through regular means, Vitamin D is no less integral to health and happiness. NOW® Vitamin D Softgels supply this key vitamin in a highly absorbable liquid softgel form. Vitamin D is normally obtained from the diet or produced by the skin from the ultraviolet energy of the sun. However, it is not abundant in food. As more people avoid sun exposure or have indoor lifestyles, Vitamin D supplementation becomes even more necessary to ensure that your body receives an adequate supply. NOW uses ultra-healthy Olive and Safflower oils as a base versus soybean or flax oil versions.
Features:
Structural Support
Helps Maintain Strong Bones
Supports Dental Health
Medicinal Ingredients: Vitamin D 10 mcg

Other Ingredients: Soybean Oil and Softgel Capsule (gelatin, water, glycerin).

Highlights

Shipping & Returns