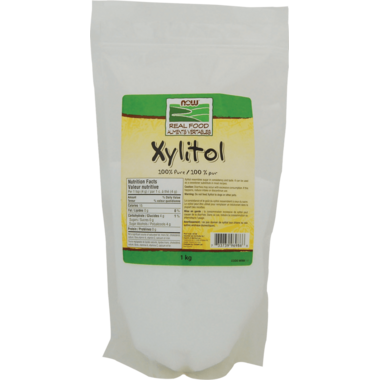 454 g
NOW Real Food Granulated Xylitol
is rated out of
5
by
40
.
---
Description
NOW Real Food Granulated Xylitol is a natural sugar substitute that resembles traditional sugar in both texture, weight and taste. Xylitol can replace sugar in almost any recipe.
Features:Directions:
For best results, simply replace each 1/2 teaspoon of sugar with an equivalent amount of granulated xylitol.
Caution: Diarrhea may occur with excessive consumption. If this occurs, reduce intake. Warning: Xylitol is safe for people, but harmful to dogs. Do not feed to pets.

Highlights

Shipping & Returns
Rated

4

out of

5
by
Nina
from
Great product, misleading image
The product image is of a 1kg package, but the listing has 454g written, which I did not see until after I received the product.
Date published: 2020-03-03
Rated

5

out of

5
by
Salome
from
We use this all the time for homemade tooth paste. It is far more pleasant than other brands we've tried. We changed to using "NOW Foods Xylitol" exclusively. Also the zipper bag is good quality and always works (Doesn't rip or disconnect on the ends) as well which seems to be a rare quality these days.
Date published: 2014-10-30
Rated

4

out of

5
by
Rilla
from
I use xylitol in everything! Works fantastic in coffee, baking, or to sprinkle on berries. Consistency and flavor is very close to sugar, and leaves no nasty after taste. The only caution I would mention is that you use it in moderation as it can have a laxative effect. I can use up to 1/4 cup over the course of a day without it affecting me. Anything more and I'm running to the bathroom.
Date published: 2012-05-25
Rated

5

out of

5
by
Andreas
from
I am pleased with the product, I use it in my coffee and to make hot chocolate. I have also used it in baking with acceptable results. When my wife tried my stevia coffee she was pretty disgusted and I can't blame her.. but the Xylitol is nice. Take it slow when u start using it, it might give you gas if you're not used to it.
Date published: 2012-05-08
Rated

5

out of

5
by
Stephen
from
When bought on sale($6.99) this is an unbeatable product. Xylitol does not cause inflammation and promotes a good mouth environment. These two things alone make it better than sugar by far. I just made some banana bread using it. An easy sugar substitute in everything you use sugar for.
Date published: 2018-01-26
Rated

5

out of

5
by
Fikile M
from
Why are people still using sugar?? This product is amazing! Right at par with cane sugar in terms of the taste but so much easier on your mental health (ok overall health). Well.ca, I know you guys, you have a knack for discontinuing my favourite things. Don't do it with this one!
Date published: 2014-04-17
Rated

5

out of

5
by
Genevieve
from
The value is fantastic and the product is great! When I first tried xylitol, I could only find it in bulk but the price is better at well.ca and the resealable bag that this comes in is also a plus. I love that xylitol can pretty much be used 1:1 as a sugar substitute in baking which means that I can still make many of the recipes I've always loved, but now they're much healthier. You barely notice a difference...or if you do it is generally positive.
Date published: 2015-06-19
Rated

4

out of

5
by
Shay
from
Great product, we buy all the time in an effort to help control my husbands blood sugar. He is type 1 diabetic and loves his coffee. This is great if you don't want the sugar dump of processed white sugar. It tastes good and has many other benefits. Well has the best price we've seen for this size.
Date published: 2016-03-02