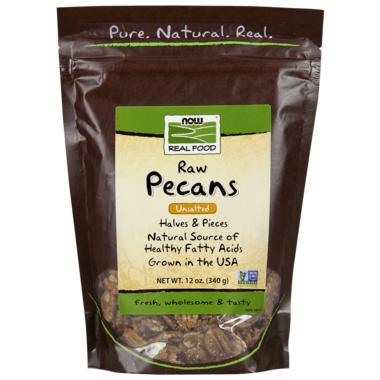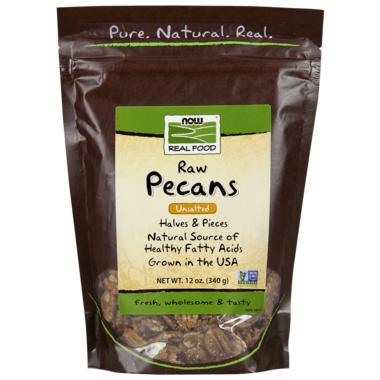 NOW Real Food Raw Pecans are naturally free of sodium and sugar, and they're a natural source of healthy fatty acids. The pecan is a favourite of nut lovers around the world, and for good reason. Not only are Pecans super-tasty, they're loaded with nutrients, making them an ideal snack food for kids and adults alike. Pecans are so good that they're one of the few nuts to have their own pie. Now that's good eating!

Fresher ingredients simply taste better, which is why this product is packaged using NOW Fresh Fill Technology, a natural blend of carbon dioxide and nitrogen that displaces oxygen in the bag to maximize flavour and freshness. Because you are what you eat, NOW Real Food has been committed to providing delicious, healthy, natural and organic foods since 1968. They are independent, family owned, and proud of it. Keep it natural. Keep it real.

Features:

Raw, Unsalted Halves and Pieces
Natural Source of Zinc
Fresh, Wholesome & Tasty

Directions: To maintain freshness, refrigerate in a tightly sealed container.