NOW Real Food Raw Superseeds
Flax, Chia & Hemp Blend
350 g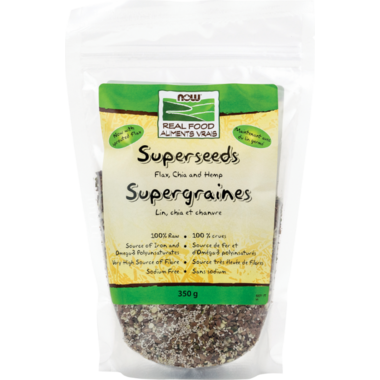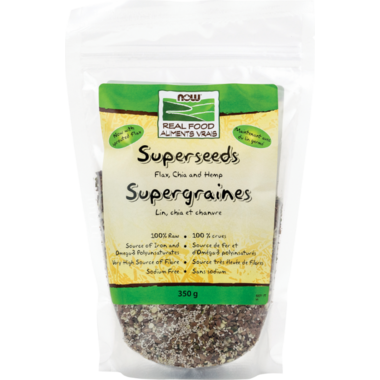 NOW Real Food Raw Superseeds
Flax, Chia & Hemp Blend
350 g
NOW Real Food Raw Superseeds is a unique blend of raw foods, including whole and sprouted flax, chia and shelled hemp that are a source of essential, omega-3 fatty acids, iron and dietary fibre, while being sodium free.
Sprouting, also known as germination helps concentrate nutrient levels, break down hard-to-digest food components to aid digestibility, and increases probiotics and antioxidant levels in seedlings. Sprouting turns some super foods into LIVE SUPER foods, where vitamin and mineral levels can increase up to 30 times. Increases in beneficial fibre and protein content are also seen, while both are converted into easier-to-digest forms. The proliferation of antioxidants and probiotics help protect the germinating seed, and provide wonderful nutritional benefits for humans. These sprouted and cold-milled chia seeds retain their nutritional value longer as the occurrence of rancidity is reduced.
At NOW, the mission is to provide value in products and services that empower people to lead healthier lives. As a family owned and operated business since 1968, they offer four generations of honesty, quality, purity and commitment. Because you are what you eat, NOW Real Food has been committed to providing delicious, healthy, natural and organic foods since 1968. They're independent, family owned, and proud of it. Keep it natural. Keep it real.
Features:
100% Raw, Sprouted and Whole Seed Blend
Flax, Hemp and Chia Blend
Source of Iron and Omega-3 Polyunsaturates
Very High Source of Fibre
Corn free, egg free, soy free
Directions:
Enjoy this tasty blend of seeds sprinkled over cereals, yogurt, salads and other prepared foods or as a stand-alone snack. Refrigeration after opening is recommended to optimize freshness.
Ingredients: Sprouted brown flax seed, white chia seed, shelled hemp seed, organic brown flax seed.
Nutrition Facts: