NOW Foods
NOW Real Food Xylitol Plus Sweetener Packets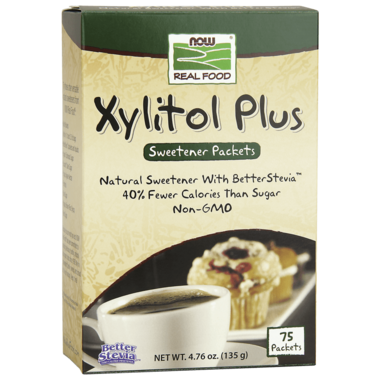 NOW Foods
NOW Real Food Xylitol Plus Sweetener Packets
Description
NOW Real Food Xylitol Plus Sweetener Packets combines the pleasant taste of Xylitol with BetterStevia, a zero-calorie natural herbal sweetener that complements and even enhances the sweetening characteristics of Xylitol.
Xylitol Plus can be used to sweeten your favourite beverages and it's also great in oatmeal, cereals, and other natural foods. Unlike sugars such as sucrose and fructose, Xylitol doesn't promote tooth decay. Additionally, even though it's classified as a carbohydrate, Xylitol has a low glycemic impact due to its slow absorption in the digestive tract.
Features:
Non-GMO
Vegan friendly
Gluten Free
Zero calories
Keto friendly
Low Glycemic impact
Kosher
Directions:
Mix one packet with your coffee, tea, or sprinkle on foods.
Ingredients:
Xylitol, BetterStevia (Organic Stevia Extract) and Silicon Dioxide.
Caution:
Diarrhea may occur with excessive consumption. If this occurs, reduce intake. Warning: Xylitol is safe for people, but harmful to dogs. Do not feed to pets.
Highlights

Shipping & Returns