NOW Foods
NOW Solutions Vitamin C & Acai Berry Purifying Toner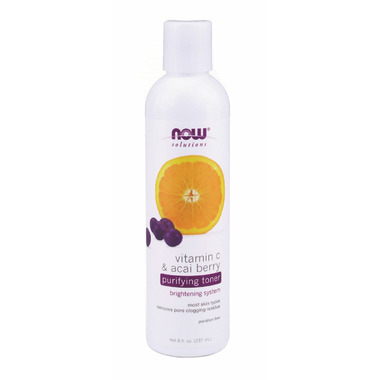 NOW Foods
NOW Solutions Vitamin C & Acai Berry Purifying Toner
Description
This purifying toner is suitable for most skin types. It brightens, removes pore clogging residue, and is paraben and gluten free. Treats combination skin with minor colour imbalances, dull appearance, uneven tone, light scarring or imperfections caused by problem skin.
Vitamin C & Acai Berry Purifying Toner removes excess residue, leaving skin fresh and revitalized. Vitamin C, Acai Berry and Gotu Kola help reduce the appearance of scars, in addition to aiding healthy skin cells by removing pore-clogging residue. Vitamin C & Acai Berry Purifying Toner is an effective, non-abrasive way to help brighten, enhance and rediscover the glow of a healthy complexion.
Ingredients:
De-ionized Water, Aloe Vera (Aloe barbadensis) Leaf Gel*, Vegetable Glycerin, Glucose/Glucose Oxidase/Lactoperozidase (natural preservative), Magnesium Ascorbyl Phosphate (Vitamin C), Acai Berry Powder (Euterpe oleracea)*, Gotu Kola Extract (Centella asiatica) (Leaf), Niacinamide (Niacin), d-alpha Tocopherol (Vitamin E), Extra Virgin Olive Oil, Orange-Grapefruit Aroma, Polyglyceryl-10 Laurate, Potassium Sorbate and Citric Acid.
*certified organic
Highlights

Shipping & Returns