NOW Foods
NOW Sports Branched Chain Amino Acids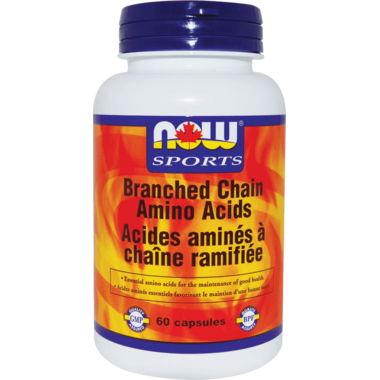 NOW Foods
NOW Sports Branched Chain Amino Acids
Description
Premium grade essential amino acids for proper functioning and maintenance of good health. Of the eight essential amino acids that cannot be produced by the body, the three branched-chain amino acids (BCAA's) Leucine, Isoleucine and Valine are of key importance. Based on their unique structure, activity, storage and metabolism, BCAA's have become a staple in the lives of many athletes and physically active individuals. They account for nearly 1/3 of the amino acids in muscle protein, and play a number of key roles in the repair and growth of muscle tissues. Capsule form provides a convenient dosage format.
Directions: Adult Dosage: Take 3 capsules 1-3 times daily on an empty stomach especially before and after exercise.

Ingredients: Per Capsules:

L-Leucine ((S)-2-Amino-4-Methylpentanoic Acid) 400 mg
L-Valine ((S)-2-Amino-3-Methylbutanoic Acid) 200 mg
L-Isoleucine ((2S, 3S)-2-Amino-3-Methylpentanoic Acid) 200 mg

Non-Medicinal Ingredients: Capsule (gelatin, water), Stearic Acid (vegetable
source). Contains milk derivative.
Caution: Contact a health care practitioner prior to use if you are being treated for Lou Gehrig's disease, branched-chain ketoaciduria, alcoholism, or idiopathic hypoglycemia. Do not use if you are pregnant or breastfeeding.

Highlights

Shipping & Returns