Nu Life Therapeutics Fatigue Therapy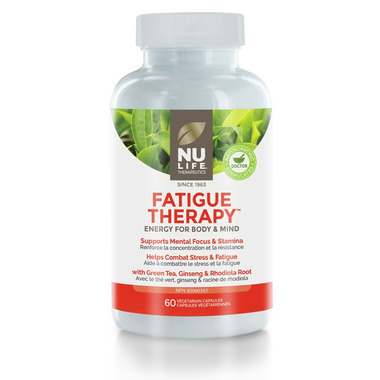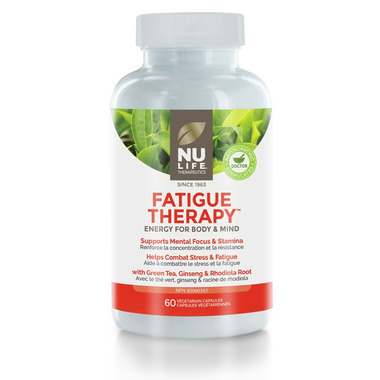 Nu Life Therapeutics Fatigue Therapy
- We're sorry, this product is no longer available!
- Shop for other products in: More Herbal Formulas

Nu Life Therapeutics Fatigue Therapy is a multi-action formula that addresses the common causes of fatigue like stress, lack of sleep and low immune function. Created by a Naturopathic Doctor, this naturally-derived, fast-acting formula utilizes therapeutic doses of 2 of the strongest and most researched types of ginseng as well as rhodiola root and green tea to provide a natural energy boost without the crash and helps combat stress and support mental focus and stamina.
Directions:
Adults, take 2 capsules daily with food, or as directed by a health care practitioner. Can be taken every 3-4 hours, as needed. Not to be taken immediately before bedtime.
Caution:
Do not use if safety seal is broken. Keep out of reach of children. Consult a health care practitioner prior to use if you are pregnant or breastfeeding or taking lithium, antidepressant medication, blood thinners, digoxin, hormone replacement therapy (HRT) or birth control pills or have diabetes, an iron
deficiency, high blood pressure, glaucoma, detrusor instability (overactive bladder syndrome), a liver disorder or develop symptoms of liver trouble (such as abdominal pain, dark urine or jaundice). Do not use if you have bipolar disorder or bipolar spectrum disorder. Some people may experience insomnia, anxiety, or headaches, in which case, discontinue use. Consult a health care practitioner if symptoms persist or worsen. If you experience irritability or insomnia, discontinue use. Hypersensitivity/allergy is known to occur, in which case, discontinue use. This product is not intended as a substitute for sleep. Consult a health care practitioner for use beyond 12 weeks. Consumption with natural health products (e.g. bitter orange extract, synephrine, octopamine, ephedra) or other drugs (e.g. ephedrine) which increase blood pressure or with other caffeine containing products (e.g. medications, coffee, tea, colas, cocoa, guarana, maté) is not recommended.