Nu Life Therapeutics Sunshine Therapy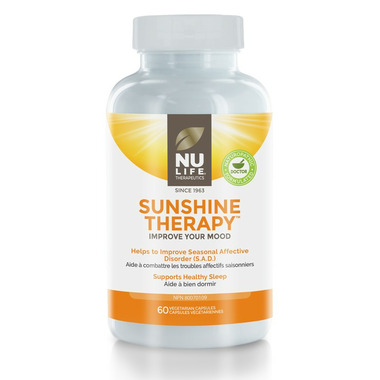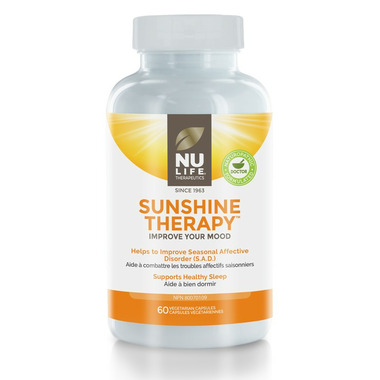 Nu Life Therapeutics Sunshine Therapy
- We're sorry, this product is no longer available!
- Shop for other products in: Other Supplements

Nu Life Therapeutics Sunshine Therapy is a year-round mood support formula helps address some of the most common causes of depressive symptoms like stress, Seasonal Affective Disorder (S.A.D.), neurotransmitter imbalances and sleep disturbances. This innovative multi-action formula combines clinically researched ingredients like Vitamin D, 5-HTP and St. John's Wort at therapeutic dosages to help decrease depressive symptoms. Taking Sunshine Therapy can help you feel better and brighter fast!
Directions:
Adults, take 1 capsule 3 times daily with food, or as directed by a health care practitioner. Take a few hours before or after taking other medications. Use for a minimum of 1 week to see beneficial results.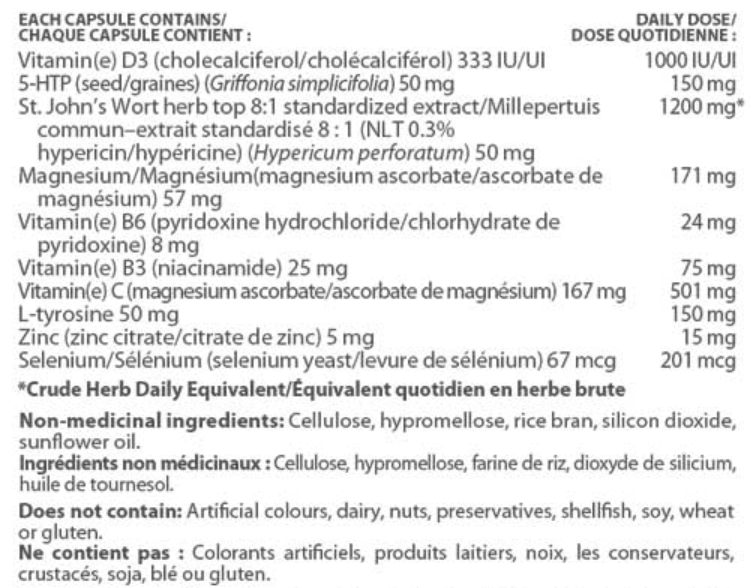 Caution:
Do not use if safety seal is broken. Keep out of the reach of children. Do not use if you are pregnant or breastfeeding or taking prescription medications including contraceptive medication or have scleroderma or if you are taking antihistamines, muscle relaxants or products with serotonergic activity. These may include, but are not limited to, L-tryptophan, S-adenosylmethionine (SAMe), St. John's Wort, pain killers, over the counter cough and cold medication containing dextromethorphan, anti-nausea medication and anti-migraine medication. Some people may experience drowsiness. Exercise caution if operating heavy machinery, driving a motor vehicle or involved in activities requiring mental alertness. Hypersensitivity, such as an allergy, has been known to occur; in which case, discontinue use. Discontinue use and consult a health care practitioner if you show signs of weakness, oral ulcers, or abdominal pain accompanied by severe muscle pain or if you experience skin changes. If you experience any of the following symptoms within a few hours after taking this product, discontinue use and consult a health care practitioner: Changes in mental state such as restlessness or confusion, increased heart rate, enlarged pupils, loss of muscle coordination, sweating, shivering and/or gastrointestinal symptoms such as nausea, vomiting, diarrhea. Consult a healthcare practitioner for use beyond 18 weeks. Consult a health care practitioner if symptoms persist or worsen or if you have a history of non-melanoma skin cancer. Avoid prolonged exposure to sunlight, ultraviolet light (UV) or UV therapy.