Nuvocare
NutraCentials Garcinia Cambogia Nx with Super Citrimax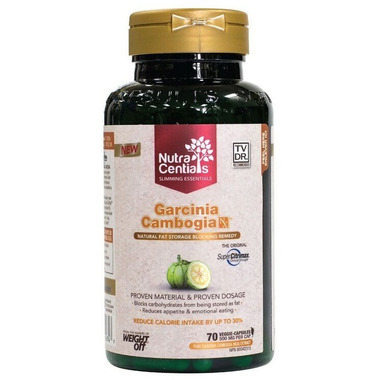 Nuvocare
NutraCentials Garcinia Cambogia Nx with Super Citrimax
Description
NutraCentials Garcinia Cambogia NX with Super Citrimax is the most effective, clinically proven garcinia nutrient available. Super Citrimax is known as "THE ORIGINAL GARCINIA CAMBOGIA." Garcinia is a rare tropical fruit grown in the remote jungles of Asia that has been traditionally used to make meals more filling. It also reduces appetite and blocks body fat production.
The Three Key Benefits To Taking NutraCentials Slimming Essentials Garcinia Cambogia NX with Super Citrimax To Lose Weight:
Significantly reduces appetite
Inhibits fat production and increases fat burning
Increases levels of serotonin and decreases emotional eating
Medicinal Ingredients:
Super Citrimax Garcinia Cambogia 500mg
Non medicinal ingredients:
Veg Cap, silica
Recommended Use & Purpose:
Helps promote weight loss by reducing appetite.
Recommended Dosage & Directions:
Take 1-3 capsules three times daily before three of your meals (total 1500-4500 mg/day). For even faster results combine with healthy eating habits and an active lifestyle.
Warning/Risk Information:
Consult a health care practitioner prior to use.
Highlights

Shipping & Returns