NutraSea Professional PRO EPA+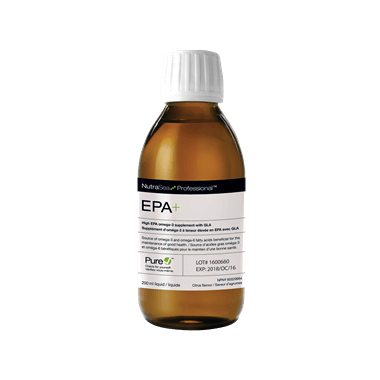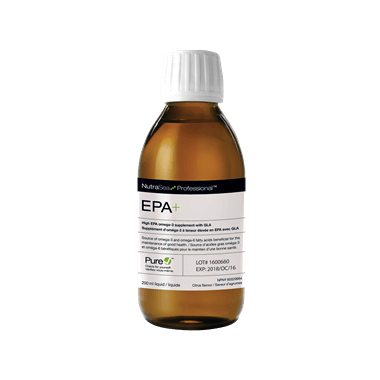 NutraSea Professional PRO EPA+
The potent EPA+ formula provides an elevated dose and ratio of EPA relative to DHA along with the omega-6 GLA. Although EPA is the primary anti-inflammatory fatty acid, the action of GLA is also characterized as anti-inflammatory via its elongation product DGLA. The complex interactions of essential fatty acids and their eicosanoid products have a significant impact on clinical outcomes. The EPA+ formula provides for ideal cellular phospholipid composition and optimal expression of anti-inflammatory prostanoids, leukotrienes, resolvins, and protectins, thereby encouraging biological homeostasis.
High EPA omega-3 supplement with GLA
Great citrus flavour
Clean, Light Taste
Guaranteed pure
Directions:

Adults 19 years and older take 1 tsp. daily. Otherwise, use as directed by a healthcare practitioner. Shake before use.
Store in original container, in a cool place protected from light. Refrigerate after opening and consume within 100 days. Do not use if safety seal is broken or missing.

Ingredients:

Fish oil (anchovies, sardines, mackerel, herring), evening primrose oil, borage oil, High oleic sunflower oil , natural flavours, tocopherols (derived from soy), green tea extract.
Natural, Gluten Free, Peanut Free Product, Tree Nut Free Product, Canadian Brand, Sugar Free, Energy Efficient